"We're your go-to option for claims efficiency in 2018" | Insurance Business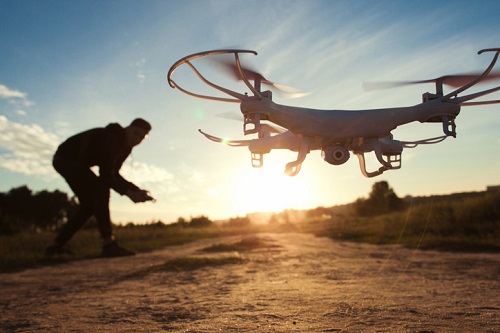 Cameras in the sky are so last year! How about flying computers? Or, even better, flying mouse cursors?
That's the innovative vision of the world's largest drone operations company DroneBase. The Los-Angeles based firm recently completed 100,000 commercial drone missions for enterprise clients across various industries, including insurance. It has a skilled drone pilot network active in all 50 States in America and over 60 countries worldwide, which are able to turn around client missions in less than 48 hours.
DroneBase recently secured $12 million in funding to launch AirCraft Pro, an augmented reality (AR) program for both recreational and commercial drone use. This will enable companies like insurers to telecom to the drone and use the AR technology for a wide variety of use cases.
"We want DroneBase to have the best customer experience for both our enterprise clients and pilots, and that means automating the operations layer so both parties can focus on what they do best," said Dan Burton, co-founder and CEO, DroneBase. "We're advancing how drones can make enterprises more efficient, and this new funding will allow us to make AirCraft Pro a reality.
"We're a world leading provider of drone flights to insurance companies, especially with regards to commercial underwriting and claims, and residential claims – but we're always looking for ways to make our service better. Whereas today, the drone essentially features as a camera in the sky, we want to elevate the drone to more of a computer or a mouse cursor in the sky. At DroneBase, we think the future of drone technology lies in taking real-time customer data and displaying it during flight. AirCraft Pro is a step towards that vision."
Insurance carriers and claims adjusters are under constant pressure to increase efficiency, but sometimes the challenges thrown at claims adjusters are quite overwhelming. The catastrophes of 2017 are one such example. DroneBase coordinated thousands of flights immediately after Hurricanes Harvey and Irma, using local drone pilots to collect data that would have been impossible for claims adjusters to generate on-foot.
"When the hurricanes struck, it was really important for our insurance partners to get an idea of the damages as soon as possible, in order to start processing claims," Burton told Insurance Business. "We operated thousands of drone flights immediately after both incidents to help with this.
"Catastrophes aside, we're generally much more affordable and efficient than a boots-on-the-ground claims adjuster because we can move so quickly. Whereas an adjuster on foot might take a couple of hours on a claim, we utilize our well thought-out shot list and flight plan, to do the same work in more like 20-30 minutes."
DroneBase is a "good value proposition" for the insurance industry, said Burton, who added: "I think we'll increasingly become the go-to option for underwriting and claims efficiency in 2018."
Related stories:
Loveland Innovation's deep learning drone system takes off
Drones in insurance: Taking out the dull, the dirty and the dangerous