Zywave envisions 'possibly two' acquisitions in 2022 first half | Insurance Business America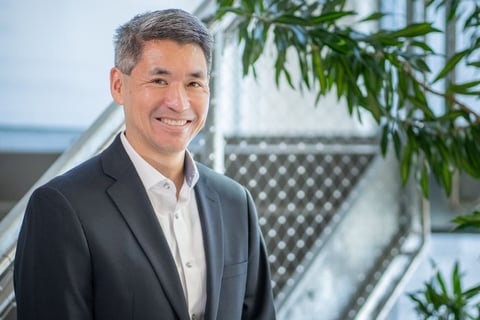 Insurance technology firm Zywave may be in the middle of integrating new acquisition ClarionDoor into the company, but CEO Jason Liu (pictured) is already looking ahead to the next one. The company will be pursuing more M&A activity in the first half of 2022, he said.
"We want to double the size of Zywave over the next 36 months, and so there will be additional acquisitions," Liu told Insurance Business.
He predicted there will be "at least one or possibly two acquisitions" through the first half of the year alone
"Obviously we're just getting started," he said, adding that the plan will be to acquire three to five companies annually.
Three months ago, Milwaukee-based Zywave announced it had snatched up ClarionDoor, a California provider of digital quoting software. The company, launched in 2010, is centered around "cloud native, API-first no-code software-as-a-service (SaaS) rating engines" – a digital distribution product with a focus on carriers, MGAs and program administrators. ClarionDoor also brought with it more than 70 global customers in various property/casualty insurance lines.
The acquisition routine for Zywave is a process the company has gone through many times in recent years.
According to Liu, Zywave made nine acquisitions since 2018 and six in the past 18 months.
Beyond ClarionDoor, other Zywave acquisitions in the insurance distribution, quoting and proposal process space have included IBQ Systems in 2021, Insurance Technologies Corporation in 2020, and RateFactory in 2019, the company previously said.
Zywave currently has more than 15,000 carrier, agency and broker customers globally, according to the company. This includes the top 100 US insurance brokerages.
M&A as an art form
According to Liu, Zywave has become pretty adept at absorbing new acquisitions.
"We've become very advanced in acquiring companies," Liu said. "We have a team that works on the company integration, and everything from systems to properties. That process has been kicked off [with ClarionDoor] and it will take three to five months to integrate systems and property."
Crucially, the bulk of ClarionDoor's staff has stayed on, Liu added.
"We've retained all of the key talents at ClarionDoor and they are now part of the Zywave [team] and have contributed," he said.
The company has also had a focused approach to blending ClarionDoor's product roster with its own configure, price and quote software (CPQ) for insurance agencies and brokers. Both companies' products are cloud based.
Zywave has pitched the combination as giving it a stronger position in CPQ from rating and quoting, through to presentation, binding and issuance.
Plans are to maintain the ClarionDoor name for now as a separate business unit of Zywave run by ClarionDoor CEO Michael DeGusta. Pricing should also stay the same.
The arrangement could be tweaked a bit in the future, however.
"Over time we will do some integration of [ClarionDoor] products into our platform – synergies we think we can do," Liu said. "Customers that are querying … will still be able to buy supplies standalone."
Liu noted that ClarionDoor is the first acquisition that Zywave has kept as a separate business unit. The reason: its customer focus.
"It's in large part because about 70% of our customers are agencies, and ClarionDoor – their customers are carriers. We wanted to allow them to have the freedom of selling into the carrier marketplace," Liu said.
Other acquisitions have been more in line with Zywave's ongoing focus rather than complementary, so their processes involved more rapid and complete integrations.
"The other ones we have fully integrated into the company … we've done the integration within a three-to-six-month period of time on average," Liu said.
Still excited
Three months after Zywave's ClarionDoor acquisition, Liu still sounds excited about what his company has added to its product roster.
"ClarionDoor's [technology] we think is the most advanced product in the marketplace for quoting and rating, and one of the reasons is because of how easy [it] is to integrate for customers," Liu said. "The other systems in the marketplace that are much more well known, often times take months, if not years to deploy."
He added: "For a larger carrier it may literally be a year or two to deploy a quoting or rating solution. For ClarionDoor it can be done in a matter of a few weeks."