AIG teams up with wearables manufacturer to reduce workers' comp losses | Insurance Business America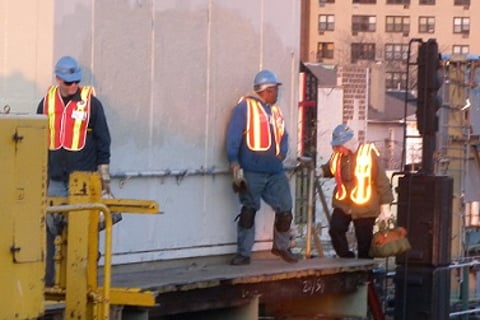 American International Group is looking to improve its understanding of workers' compensation losses through a new investment in wearables manufacturer Human Condition Safety.
The trackable device, which is embedded in construction workers' vests, is designed to monitor the movements of employees in factories, on construction sites and in other high-risk workplaces. The sensors transmit data on the wearer's movements in real time. The hope is that the sensors will help managers keep track of where their workers are at all times and also help to decrease fraud.
Through the investment,
AIG
is hoping to leverage the received data analytics to cut costs and boost profits in its workers' comp business.
In addition to preventing fraud, AIG hopes the sensors could warn employees of potential danger if they are wandering in the path of a forklift or into an electrified area.
Other workers' comp insurers and brokers have expressed support for the idea, including
Marsh
& McLennan, which has endorsed the concept of wearables as able to cut costs and boost profits.
However, consumer advocates are expressing concern over worker privacy. The wearables may give employers and insurance companies access to detailed information on individuals' behavior and health with which workers may not be comfortable.
Marsh and AIG have both acknowledged the privacy concern, but assure reporters that they are prepared to work with attorneys and unions.
"[We] take the privacy of our clients and their employees very seriously," AIG said in a statement. "And we consider the protection of data one of our highest priorities."
The company said its focus on aggregating data from the wearables is to "help make work sites safer for all employees."
Human Condition Safety has a pilot project involving the wearables underway at Citi Field in New York to simulate conditions at construction sites and large venues. Workers have been wearing the vests to determine what series of events leads to trips, falls and other preventable injuries.
The pilot project is expected to run for another year before sensors are made available for use in workers' compensation insurance programs.
"There's a lot to be figured out, and we're trying to do it as responsibly and ethically as possible," Human Condition Safety Chief Executive Peter Raymond told the
Wall Street Journal
. "Those are all things we're learning in our pilots."