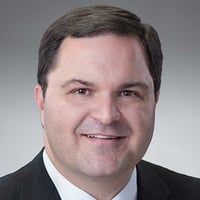 Thomas Y. Elfert
Senior Vice President
Arthur J. Gallagher & Co.
A career insurance broker, Thomas brings over 20 years of experience to his role as Senior Vice President at Arthur J. Gallagher & Co. in its Mississippi office. Thomas oversees a team of professionals responsible for producing and servicing a book of business composed primarily of loss sensitive casualty clients, with a particular emphasis on the construction industry.
Thomas graduated from the University of Mississippi in 1998 with a B.B.A. in Risk Management & Insurance and today serves as an industry advisor to the university as a Board Member on its Risk Management & Insurance Advisory Council. Upon graduation, Thomas began his career as with The Bottrell Agency, a regional insurance and surety agency focused exclusively, at that time, on the construction industry. He eventually was promoted to Director of Marketing, where he oversaw placement in excess of $100M in insurance premiums across the agency's multiple insurer relationships and was directly involved in the production and servicing of its largest construction clients.
In 2004, Thomas was recruited to Gallagher to join a team focused on large, loss sensitive casualty clients, many of which are in construction or related industries. Over the last 19 years, Thomas has assumed leadership of this team while expanding its client base and service capabilities. He serves as a leader and resource within Gallagher's Construction Practice Group both regionally and nationally. Thomas has been recognized numerous times as a top producer in Gallagher's Mid-South Region and has been recognized previously as a Top 20 Producer nationally by the company.
When away from the office, Thomas can be found with his wife, Brooks, traveling, cheering on the Ole Miss Rebels, and supporting the varying interests and talents of his two teenagers, Lucy and Yates.