An effective approach to navigating a 'boom-and-bust' market | Insurance Business America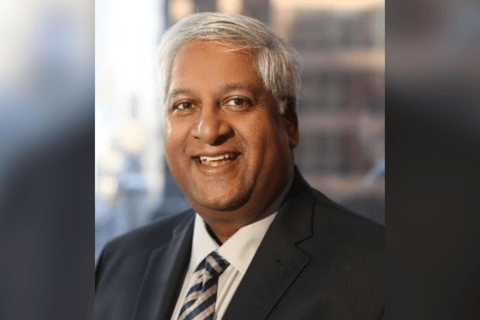 This article was produced in partnership with Berkshire Hathaway Speciality Insurance (BHSI)
Karen Surca of Insurance Business sat down with Darryl DeSouza to discuss the challenges facing the insurance industry and Berkshire Hathaway Specialty Insurance's (BHSI) fiscal approach to getting business done.
When market conditions are volatile, standing above the competition becomes essential.
The pandemic has served as a reminder to many in the insurance field that making careful choices and knowing your customer base is key to getting the job done.
For Berkshire Hathaway Specialty Insurance (BHSI) a turbulent climate has not stood in the way of guiding its customer base.
Taking a solution-oriented approach has proven to be the right choice. Already in a very strong financial position, BHSI put its successful inclusive working model into practice by tackling inherent industry challenges head-on
"Our objective was to support those broker partners who supported us in a soft market. We are also looking for long-term solutions to problems specific to each risk," Darryl DeSouza, senior vice president - casualty, Canada, with BHSI explained.
"We met our business objectives by selecting the risks that fit our business model and focused on strengthening our customer relationships," DeSouza added.
Current drivers in the casualty market
As we enter 2022, and with a possible softening of the market, DeSouza remains cautiously optimistic about the prospects of big insurance players.
However, despite there being light at the end of the tunnel, there are still key drivers in the casualty market that need to be tackled on the route to a less volatile and more welcoming climate.
"There continues to a be a focus on top-line GWP goals by some markets. To try to gain market share, these companies tend to drive prices down during the fourth quarter while trying to compete for the few available accounts," DeSouza explained.
Another driver in the industry is the restriction of capacity by some domestic and international insurers.
"Many markets have selected to reduce liability capacity, which requires additional layers to fill a liability tower," DeSouza highlighted, adding that "before the hard market, it would only take four or five markets to fill a $100 million liability tower, with many providing $25 million limit chunks of capacity."
DeSouza explained that now it may require seven or eight markets, each providing $10 million or $15 million increments which impact the pricing of the tower by increasing the overall cost.
Another challenge that all insurance providers continue to grapple with is the "boom-and-bust cycle" that led to many years of volatility even before the added layer of COVID-driven challenges.
"This boom-and-bust cycle led to years of unprofitable growth followed by short profitable periods," DeSouza stated.
Not to be deterred by the potential fallout from a cycle that hurt many players in the industry, DeSouza described how BHSI's approach positioned it well to outperform competitors.
"We focus on the accounts that will provide a return on our investment and shed those where the pricing falls to unmanageable levels," he explained. "We focus on underwriting profitability and feel we can manage the market cycles more effectively than our competitors."
What does the immediate future look like?
As the pandemic is slowly becoming less of a concern, BHSI's thoughts are turning towards what steps to take to keep the business moving forward in the new year.
"Our primary focus continues to be to grow our customer relationships," DeSouza stated.
BHSI achieves its goals by asking the right questions: Does the customer need a specific solution? Is there access to supply the customer with the best products and services to meet those needs?
"We want to know and understand the business of each customer and supply them with the best products and services to fill those needs," he said. "Our goal has always been to maintain that relationship for the long term."
Other ongoing efforts
Among the general streamlining efforts on both a technical scale and in direct relation to customer and broker interactions, BHSI is also turning its efforts to continuously updating and expanding its Diversity, Equity, and Inclusion (DEI) platform.
This is a platform that DeSouza and his teammates are very proud of.
"We are strengthening initiatives to continue this work by reaching out to the local colleges and universities on their job boards. Other teammates are working on DEI associations where we feel we can make contributions by expanding our knowledge and helping their members understand our industry as a possible career opportunity," DeSouza stated.
The road ahead
Weathering stormy conditions has not been by accident for Berkshire Hathaway Specialty Insurance. Rather it was by design and achieved through a tested system.
"We have the financial stability and the depth of our balance sheet. Warren Buffett understands the cyclical nature of the insurance market and understands that profitability over the long term is the key to our success," DeSouza reflected.
"Those financial analysts who study his [Warren Buffett's] investing strategy know that he doesn't look at quarter to quarter statistics."
Berkshire Hathaway Specialty Insurance continues to look at the bigger financial picture and with laser focus stays on course to get the job done.
Berkshire Hathaway Specialty Insurance (www.bhspecialty.com) provides commercial property, casualty, healthcare professional liability, executive and professional lines, transactional liability, surety, marine, travel, programs, accident and health, medical stop-loss, homeowners, and multinational insurance. The actual and final terms of coverage for all product lines may vary. In Canada, it underwrites on the paper of National Liability & Fire Insurance Company, a part of Berkshire Hathaway's National Indemnity group of insurance companies, which hold financial strength ratings of A++ from AM Best and AA+ from Standard & Poor's. Based in Boston, Berkshire Hathaway Specialty Insurance has offices in Atlanta, Boston, Chicago, Houston, Indianapolis, Irvine, Los Angeles, New York, San Francisco, San Ramon, Seattle, Stevens Point, Adelaide, Auckland, Brisbane, Cologne, Dubai, Dublin, Frankfurt, Hong Kong, Kuala Lumpur, London, Macau, Madrid, Manchester, Melbourne, Munich, Paris, Perth, Singapore, Sydney, and Toronto.
Darryl DeSouza is head of casualty, Canada, at Berkshire Hathaway Specialty Insurance. Darryl has spent the last 25 years specializing in Casualty lines. Prior to BHSI, he was an underwriting specialist at AIG Insurance Company of Canada and, before that, AVP, casualty facultative underwriter, at Swiss Reinsurance Company of Canada. He holds a bachelor's degree from McMaster University and the FCIP and CRM Insurance Professional designations.