Bermuda a significant milestone in McGill and Partners' expansion | Insurance Business America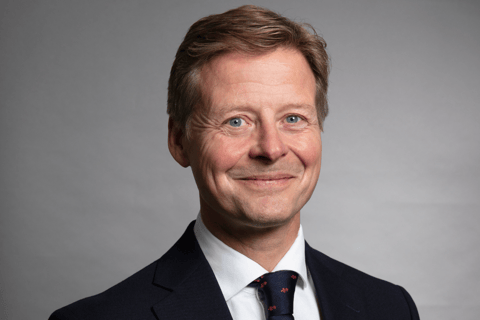 This article was produced in partnership with McGill and Partners.
Bethan Moorcraft of Insurance Business sat down with Angus Milgate (pictured), head of international treaty reinsurance at McGill and Partners to discuss the (re)insurance broker's new Bermuda business.
McGill and Partners, a boutique specialist (re)insurance broker focused on clients with complex needs, has officially opened a Bermuda branch after receiving regulatory approval for the operation in October 2021.
The Bermuda office will complement McGill and Partners' other international operations in London, New York, Miami and Dublin, and will strengthen the broker's capabilities as it continues to rapidly expand its global specialty business.
Entering the Bermuda reinsurance market was "always a when, not an if" for McGill and Partners, according to Angus Milgate (pictured), head of international treaty reinsurance at McGill and Partners.
"Bermuda is recognized worldwide as a reinsurance hub," said Milgate. "It's a hub for talent, a hub for innovation, a hub for capital – and to get where we want to be as a global specialty (re)insurance broker, we wanted a presence in Bermuda."
Historically, the Bermuda reinsurance market was set up to take advantage of a dislocation in the US insurance market. Until about the 1980s, it was almost entirely focused on group captive solutions to help smaller companies gain greater control over their insurance programs by pooling their risks with companies with similar interests and risk profiles.
The market's first major evolution occurred during the liability insurance crisis in the 1980s, when large US corporations turned to Bermuda to provide new vehicles for purchasing excess liability insurance. That started a trend where Bermuda became a solution provider for complex reinsurance and retrocession challenges.
Initially, the Bermuda market's core focus has been on property catastrophe risks, but in recent years, it has evolved with the help of fresh talent and new capacity to cater to more lines of business, including the specialty classes that McGill and Partners is building its international business around.
"The overall mood in Bermuda at the moment is very buoyant," Milgate told Insurance Business. "There's more talent entering the market, more important decisions being made, and new capital arrives all the time, which is being deployed in different lines of business. This all makes the Bermuda market an attractive place to be."
McGill and Partners is not alone in spotting the growth potential in the Bermuda market. In the last 12-15 months, lots of new capacity has entered, including Conduit Re ($1.1 billion), Convex Insurance ($3.2 billion), Mosaic Insurance ($185 million) and Vantage (EU700 million). In addition, many existing players have made significant capital raises, including Arch Re ($1 billion), Ariel Re ($600 million), Ark ($605 million), Fidelis ($1.30 billion) and RenaissanceRe ($1.1 billion).
While establishing a Bermuda operation was already part of McGill and Partners' plan before these capital raises took place, Milgate stressed that the intensity of new capacity does clearly underline the importance and growth potential of the Bermuda market.
The (re)insurance broker has appointed Bermuda veteran Kate Vacher to lead its new entity as CEO, reporting to Milgate. Vacher began her insurance career in London as an underwriter at Lloyd's before joining Aspen Insurance as part of its original team. She held a number of senior roles at Aspen, including group director of underwriting and active underwriter of the Aspen Syndicate, before she relocated to Bermuda as CEO of the Aspen Bermuda platform.
Vacher's appointment is a prime example of McGill and Partners' wider talent acquisition strategy, according to Milgate, who added: "She's top notch. McGill & Partners is built around a talent acquisition strategy, we bring good people on board and good things happen as a result."
"Kate comes from an underwriting background, but she has enormous depth and breadth of experience – she has experience in insurance and reinsurance, she's run a company, she knows first-hand the issues our clients face, she's built teams, and she's purchased reinsurance," said Milgate. "She knows the markets, she knows the competition and she brings such a wealth of knowledge that we can tap into instantly.
"Overlay all of this with the fact that Kate is a really lovely person, she's outgoing, she's got a great contact list, and key relationships in the Bermuda market. We just couldn't be happier that she agreed to join us."
Milgate stressed that it's people like Vacher that will enable McGill and Partners to expand its fledgling Bermuda operation, even as new capacity increases competition in the marketplace.
"People do business with people they want to do business with. The reception we're getting from clients and carriers is just incredible," he said. "Our real differentiation is how we turn up as a team. One of the characteristics we always look for when bringing people on board is whether they're a team player.
"We don't just put forward a treaty reinsurance solution or a facultative solution; we put forward a McGill and Partners proposition. That's one of the reasons why I joined the company. The ability to provide bespoke solutions to tackle risk wherever we see it in the value chain. And based on the feedback we are getting from clients and markets, people recognize that they'll get something unique from McGill and Partners."
Angus is a Partner and Head of International Treaty Reinsurance at McGill and Partners. Angus has over thirty-three years' experience in the Reinsurance sector and has worked across multiple jurisdictions and disciplines. He is particularly focused on building out the Reinsurance team, bringing in the best talent and working with colleagues to seamlessly deliver risk management and capital solutions.