"Fresh perspectives and customer focused": inside Berkshire Hathaway's unique approach to D&O | Insurance Business America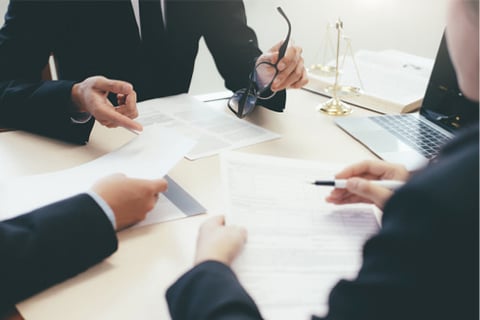 Insurance is an industry in which definitions and exposures are always evolving – and the world of D&O coverage is no different, explained Andrew Knight, senior vice president, executive and professional lines at Berkshire Hathaway Specialty Insurance (BHSI), Canada.
"D&O policies and experience are often influenced by new regulations," he reflected, "laws and regulations create new exposures for directors and officers – new tripwires, if you will.
"Certain traditional issues and exposures have always been there - and I think that now we're just seeing the nexus for claims and litigation against directors and officers evolve and taking on different shapes and sizes. For example, it was not long ago that heightened awareness evolved around environmental liability for directors and officers, and more recently there are new aspects of cyber liability for directors and officers that didn't use to exist."
Such a changing climate means that constant vigilance in the assessment of the D&O landscape is necessary – which is something Knight and Berkshire Hathaway Specialty Insurance continually factor into their approach.
"We collaborate among our groups – my counterparts in Asia, my counterparts in the US," Knight explained. "We have a responsibility to understand issues with appropriate context because we benefit from having a consistent, global perspective locally. A philosophy that is shared across the organization.
"As a company, we have the desire to understand the exposures and make measured, data driven decisions and price based on known risk. We aren't doing our job as a business partner if we fail to undertake appropriate due diligence. Insurers expose their customers to year-to-year volatility in their approach if they fail to understand risk and exposure. These always changing environments make it challenging for insurers to behave like long-term business partners. Our objective is just that: to ensure our approach is one of transparency and sustainability so that we can build and strengthen long-term relationships with customers.
"We've been very, very vigilant, ensuring that every decision we make is as informed and as data driven as possible. To ensure our solutions are sustainable, we've made sure that we are resourced appropriately, and informed to the extent we can be confident that we've established a platform to clearly understand the exposures that directors and officers face."
It's certainly a complex arena – which makes it all the more impressive that BHSI's Executive First D&O Liability Insurance is "a clear, simply worded policy built expressly for the complex and evolving risks of directors, officers and their companies".
So how exactly does Berkshire Hathaway Specialty Insurance handle the complexities of needing a bespoke approach to D&O with this drive for transparency and simplicity?
"Simplicity is important to us," Knight said. "Simplicity over complexity every day. When customers come to us with policies they have had written elsewhere over the last few years, we bring them fresh perspectives and dynamic underwriting. As a provider of solutions, we try to be very agile and say "we can tailor that for you. We can figure out what makes sense for your organization now and customize, versus simply taking something off the shelf.
"That's definitely an advantage to working with us. We have underwriting, management, legal, and claim staff who are all involved in product development and who can interpret policy language clearly for customers and with a bias toward identifying coverage. The majority of our local underwriting leadership have over 15 years of experience and existing relationships with customers and brokers.
"We take a patient approach and are very relationship driven. We value customer engagement. We want to be as transparent with customers as possible. We want to have face-to-face meetings and get to know them – that's our culture. The relationships that we've been able to develop and continuity of our local underwriting groups have been an advantage in an industry that sees a significant amount of personnel movement among both customers, brokers and insurers."
"What's really been a breath of fresh air is the fact that we're not in a rush to solidify partnerships. Sometimes the success for us, the win for us, is just getting a customer visit in year one, telling our story, and building a relationship over time. And if a transaction takes place in year one, fine, but if it is three, four, or five years down the road before it makes sense for all sides to solidify the partnership, then that's great too. With BHSI, customers discover a different experience and culture: one they don't usually expect from an insurance company."
Berkshire Hathaway Specialty Insurance (www.bhspecialty.com) provides commercial property, casualty, healthcare professional liability, executive and professional lines, transactional liability, surety, marine, travel, programs, accident and health, medical stop loss, homeowners, and multinational insurance. The actual and final terms of coverage for all product lines may vary. It underwrites on the paper of Berkshire Hathaway's National Indemnity group of insurance companies, which hold financial strength ratings of A++ from AM Best and AA+ from Standard & Poor's. Based in Boston, Berkshire Hathaway Specialty Insurance has offices in Atlanta, Boston, Chicago, Houston, Indianapolis, Irvine, Los Angeles, New York, San Francisco, San Ramon, Seattle, Stevens Point, Adelaide, Auckland, Brisbane, Cologne, Dubai, Dublin, Hong Kong, Kuala Lumpur, London, Macau, Madrid, Manchester, Melbourne, Munich, Paris, Perth, Singapore, Sydney and Toronto. For more information, contact [email protected]
The information contained herein is for general informational purposes only and does not constitute an offer to sell or a solicitation of an offer to buy any product or service. Any description set forth herein does not include all policy terms, conditions and exclusions. Please refer to the actual policy for complete details of coverage and exclusions.