Friday the 13th – a great time to revisit motorcycle safety | Insurance Business America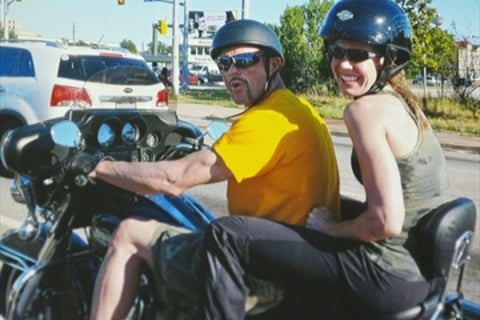 The 'Friday the 13th' ride is one of the largest single-day motorcycle events in the world; but for clients who are more eager than skilled on a motorcycle, it can be dangerous.
More than 100,000 motorcycle riders will travel through southwestern Ontario to the tiny town of Port Dover, population 6,400. Steve Kee, Insurance Bureau of Canada's Director of Media and Digital Communications – who has made the trek to Port Dover himself and will be going again this Friday, warns that the Port Dover run "is not for people who have little or no experience in group or highway riding.."
With motorcycle sales up, it means new riders on the road this summer – and that means an increase in potential crashes and injuries for insurance carriers.
"Riding a motorcycle requires skill, control and a different level of focus than when driving a car – for example, knowing how to brake safely while leaning into a turn," says Kee. "Stay alert to all potential dangers, keep your wheels on the road and keep the shiny side up. Enjoy a safe ride wherever you go."
Kee and the IBC offers some tips for brokers to pass along to their clients before they saddle up and ride to Port Dover tomorrow:
- Get professional training. Benefit from a riding course to sharpen your skills and learn the latest techniques.
- Maintain your bike. Have it regularly maintained by a good mechanic and check it yourself before and after each ride.
- Dress for the fall, not the ride. The proper gear – which includes an approved safety helmet, eye protection, a motorcycle jacket, motorcycle pants, gloves and over-the-ankle boots – may reduce your risk of serious injury. Shorts and T-shirts are not proper riding attire.
- Wear bright colours or reflective material to make you more visible to motorists.
- Stay sharp. Keep your eyes moving and do frequent shoulder checks.
- Scan the road surface ahead of you. Watch for road surface irregularities such as railroad tracks and potholes. Also, avoid gravel, oil, mud, water, wet leaves and rocks that can cause your motorcycle to slide or topple over.
- Mind the gap. Leave an adequate gap between you and the car in front of you. On open roads with higher speeds, adjust your gap.
- Be seen. Always signal lane changes and position yourself where others on the road can easily see you. Make eye contact with motorists when possible. Many drivers claim they "just didn't see" a motorcycle after colliding with it.
- Always have a way out. Identify potential hazards as you ride. Predict the worst case scenario and prepare an escape route.