Morning Briefing: Magic Johnson buys insurance company | Insurance Business America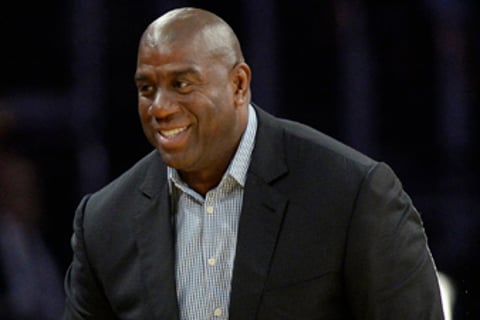 Magic Johnson buys insurance company
Former basketball star Magic Johnson has expanded his business empire with the purchase of an insurer. Johnson's holding company MJE has bought a controlling 60 per cent stake in EquiTrust Life Insurance Company, a firm with $14.5 billion in premiums mainly in annuities and life insurance. No financial details have been released about the deal but it is understood that the New York based Guggenheim Partners, who bought the insurer in 2011, will continue to manage the finances of the firm. It's not clear if it will also continue to hold a stake.
Aon joins European initiative on cyber risk
The global risk management business Aon Risk Solutions has announced its involvement in a new cyber risk initiative funded by the European Commission's Horizon 2020 programme. The WISER (Wide Impact Cyber Security Risk Framework) resilience program brings together a number of stakeholders in a bid to tackle the growing risk. Aon is the only representative from the financial services sector. As part of the Horizon 2020 project, the EU aims to put cyber-risk management at the heart of good business practice. By 2017, WISER will provide a cyber-risk management framework to assess, monitor and mitigate cyber risks. Giorgio Aprile, director, Financial Industry Advisory Services explains, "Aon's involvement in this project will drive practical business outcomes such as a real time IT assessment platform and a cyber risk exposure model for non-traditional aspects of cyber risk".
Businesses see consumer trust as a core concern
A new report shows that 61 per cent of senior executives in the consumer markets industry have building consumer trust as a core value; and 32 per cent say trust is and will be one of their biggest challenges over the next one to two years – second only to expansion and top line growth. The poll by KPMG found that businesses are having less of a transactional relationship with their customers and are competing to win emotional engagement. Respondents are using social media strategies (41 per cent) and loyalty/membership programs (31 per cent), due to the potential for personalization and targeted discounting. Insurers are among the groups that are seeking better engagement and trust-building with consumers and are also adept at using research and data analytics to monitor consumer patterns. The report notes that some consumer-facing companies have been quick to use social networks to gather consumer data, which they can use to influence and personalize their marketing.