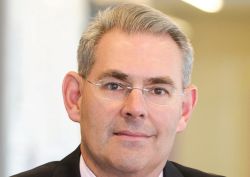 RSA Canada has doubled in size since president and CEO Rowan Saunders took over in 2003, and he's not done yet. Here he speaks out on new growth opportunities, a new corporate culture, what the industry can learn from tech giants and how insurance can get 'sexier' to attract new talent
It's no stretch to say Rowan Saunders is enjoying a successful run since taking over as President and CEO of RSA Canada in 2003.
The Canadian unit has been a bright spot for London, UK-based multinational general insurance company RSA Insurance Group plc, which operates in 32 countries. While the parent company, which celebrated its 300th anniversary in 2010, had a tumultuous 2013 that saw shares drop 28% thanks in part to irregularities in its Irish division and shakeups in upper management (including the departure of group chief executive Simon Lee), RSA Canada, meanwhile, continues to hum along. The unit has seen a remarkable turnaround during Saunders' tenure, essentially doubling in size since 2004.
Saunders says RSA Canada has been on a transformative journey. "Within a decade we moved from the No. 10 spot to being a top-three insurer," he says, adding that the significant growth has come both organically and through acquisitions. This includes three major acquisitions that expanded RSA's national footprint and strengthened its broker network: CNS in B.C., national specialty player GCAN, and Quebec-based L'Union Canadienne.
"With the latter, we rounded out our proposition to include end-to-end insurance across all lines of P&C business (Personal through to Global Specialty Lines), from coast to coast," Saunders says.
Since joining RSA in 1987, Saunders worked his way up by holding progressive leadership positions in the areas of underwriting, marketing, sales and finance. He has served as president of Agilon Financial, an affiliated company of RSA Canada, where he was responsible for the company's strategic development, operations and overall financial performance. He served as vice president, personal insurance for RSA, and also held the position of vice president, Western Assurance Co., an Ontario-focused unit of RSA Canada.
Saunders says he has enjoyed all his roles at RSA, each with its own unique challenges that have contributed to his development in different ways, but the technical underwriting role stood out. "I really enjoyed fulfilling the business proposition and getting the chance to be at the front of driving our products in the market place," Saunders says. "There is the thrill of chasing the big opportunities, negotiation and closing the deal, and the satisfaction when you land a good account."
Saunders recently spoke with
Insurance Business
about a wide variety of issues, including the evolution of how RSA works with broker partners, challenges facing the commercial lines business, what can be learned from other industries, and how to make the industry a little "sexier" in the minds of young professionals.
How the broker proposition has evolved at RSA Canada
Rowan Saunders
: Part of our business transformation has included a greater refinement of how we want to work with our broker partners. We have a select network of approximately 900 brokers with whom we prefer to do business. Taking this targeted approach allows us to focus more strategically on where we want to grow, and on building lasting partnerships that will help us to accomplish this. The broker has been one of our most important allies in driving our business forward and we're deeply invested in continuing to build on these relationships.
Brokers will continue to play a very critical role in helping the contemporary insurance customer to navigate insurance. The broker is there to help ensure clients understand what they are buying and what they can do to protect their homes, businesses and other valuable assets.
While people have grown accustomed to 140-character-or-less interactions, the conversation about insurance will always require more than that at some stage in the insurance cycle. RSA believes strongly that the broker is a critical touch point for customers and we're heavily invested in working with brokers to strengthen and perpetuate this role.
For RSA that includes investment in meaningful broker education opportunities that include important concerns like succession planning. In addition, we support key initiatives like IBAC's Broker Identity Program, which promotes the role of the insurance broker to customers across Canada.
What the insurance industry can learn from other industries
RS:
My role as a Board member of Equitable Bank has provided me with a number of insights into the banking industry and the strategies and tactics that banks in Canada are using. The banks have used their large scale to create efficiency advantages. Large onshore call centers to process consumer requests and cross sell products enables them to operate from a low-cost platform.
Agility to react to consumer demands and ease of doing business is something that is currently a challenge for both the Insurance and Banking sectors. We have a lot to learn from the Technology industry in this respect. The customer expects every company to be available for business at any given time and accessible anywhere – whether via phone, online, smartphone, tablet, etc.
Companies like Google and Amazon are exemplary of how Big Data is shaping commerce today. Their use of sophisticated data analytics is an excellent model for any company that wants to use valuable information about consumer behaviour to manage the product life cycle and continually come up with better ways to serve customers.
Innovation and time to market of new products needs to be improved to react to changes in consumer demand. The Apple mantra of providing products to consumers that they don't even know they need can be applied to insurance. The significant flooding events in 2013 reiterated the belief that Canada is significantly underinsured, and customer awareness of their lack of insurance is low.
The broker model presents a tremendous opportunity to take customers on that journey of understanding why they need insurance and helping to clarify what their policies entail and their personal roles in risk management. The broker also plays a key role in making it easy for them to access the products and services they may not even know they need.
Biggest challenge in commercial lines
RS:
The commercial market is highly competitive and we continue to face soft market conditions that really restrict the negotiating power of brokers and insurers, making it more difficult to attract and retain long term, profitable books of business.
The global specialty lines market in Canada (worth approx. $7 billion), is made up of global carriers who have the capacity, expertise and global broker relationships to successfully compete in this segment.
In the small- to mid-size commercial market, insurers are deploying more capacity as personal lines margins are squeezed. There are a number of strategic issues that need to be navigated. The distribution of the product is changing as customers are demanding more/easier ways to do business with the insurance companies. The small commercial segment will likely become more of a commoditized product similar to the trend in personal insurance.
In terms of small- to mid-size commercial insurance, we are addressing the issues by being clear on our appetite and on where we want to grow with our brokers. We continue to invest in our broker platform to increase the ease and speed of both doing business and making decisions.
From a GSL perspective, this includes forming tripartite relationships with brokers and clients that allow all parties to work together to create risk management solutions that work well. It also involves delivering strong technical expertise, including highly skilled underwriters and risk control consultants that bring a deep knowledge of the client's industry.
Attracting Gen Y talent to the industry
RS:
Organizations need to make sure their employee value proposition is strong. Gen Y's respect organizations with clearly articulated visions, a strong purpose, shared values and clear career path options. Corporate responsibility is something that is clearly a value of the younger generation and needs to be clearly integrated into the way companies operate and value their impact on society.
Gen Y's value a good work-life balance. Work-life balance means something different to everyone, so being successful at providing work-life balance means providing the flexibility for each employee to determine what this means to them within the parameters you set. Providing tools and a culture that enables this is imperative.
Engagement is very important to the younger generation. Managers need to give them autonomy and assignments they feel are complex and challenging and that are an extension of their education. They prefer working towards a goal with a high degree of independence while in a collaborative work environment where they feel free to seek help without fear of reprisal from their peers and superiors.
Insurance is what I would call a "hidden gem" within the financial industry. Insurance is an exciting and dynamic industry, and insurance professionals can build an immensely rewarding career. I think we have an opportunity to make the industry a little sexier in the eyes of young professionals. You can explain underwriting to young generation as fast-paced, client-focused, requiring complex quantitative/ analytical skills, attention to the detail and ability to manage a book of business.
This feature is from Insurance Business Canada's May issue #2.2. Please click on the link to read more.