Product recall risks on the rise | Insurance Business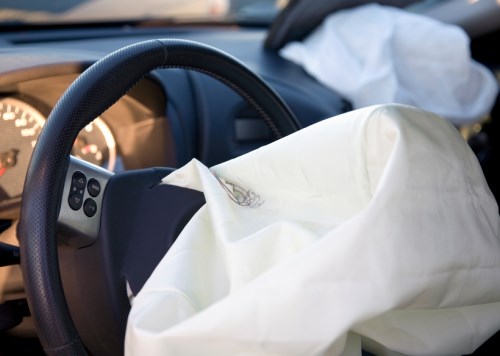 US$25bn – that's the estimated cost of a recent airbag recall rattling the auto industry, which is expected to result in the recall of up to 70m units at 19 manufacturers worldwide, according to a new report by Allianz Global Corporate & Specialty (AGCS).
Product-related risk is one of the biggest threats facing businesses today as recalls can result in losses in the billions. "Product recalls have risen steadily in the past decade. We are seeing record levels of recall activity in size and cost today," says Christof Bentele, head of global crisis management at AGCS. "Tougher regulation and harsher penalties, the rise of large multi-national corporations and complex global supply chains, growing consumer awareness, impact of economic pressures in research and development (R&D) and production and even growth of social media are just some of the contributing factors behind this."
The report analysed 367 insurance industry product recall claims across 12 sectors and 28 countries between 2012 and 2017 and found that the average cost of a big recall event is over US$12m. However, the top ten biggest events accounted for more than 50% of total loss values from all analysed claims. One big product slip-up could cost you dearly – especially if you're an auto company.
Nine out of the ten largest product recall claims came from the auto/industrial supplier sector. Over 70% of the value of all losses originated from the industry, and the average costs related to a major recall event totalled US$14.5m. The sector also contributed the highest volume of claims – about 60%. "This is driven by factors such as more complex engineering, reduced product testing times, outsourcing of R&D and increasing cost pressures," said Carsten Krieglstein, regional head of liability, Central & Eastern Europe, AGCS. "The technological shift in the automotive industry towards electric and autonomous mobility will create further recall risks."
The food & beverage sector was the second most affected sector, with claims contributing 16% of total analysed losses. The average cost of a claim for a major recall set food & beverage companies back US$9.5m. Product contamination, which was responsible for 12% of claims overall, is the main driver behind recalls in the industry.
Automotive industry slammed with the costliest claims
(Impacted industries by value of insurance claims)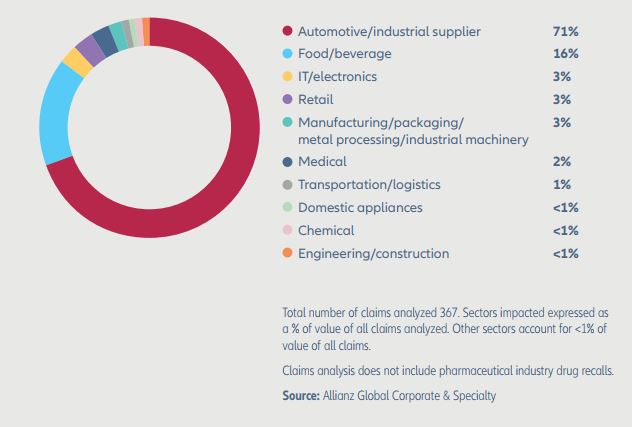 Automotive/food and beverage industries account for over half of all claims
(Impacted industries by number of insurance claims)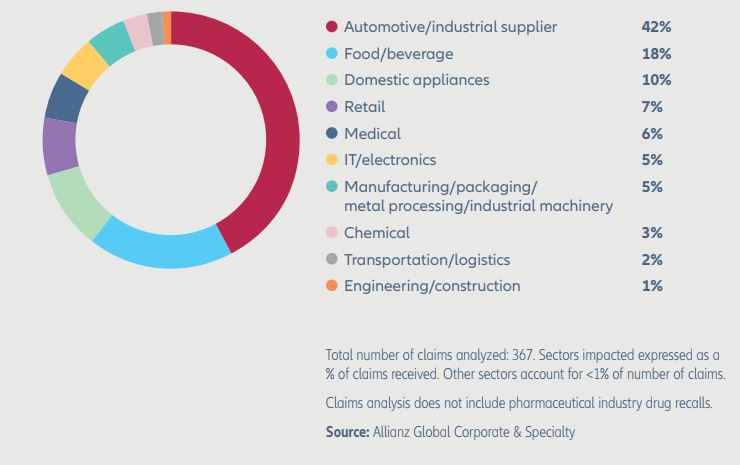 Related stories:
Extensive supply chain? Trading across borders can cost you big
Insurance premiums – the winners and the losers