Enlightening the industry to proper risk management | Insurance Business America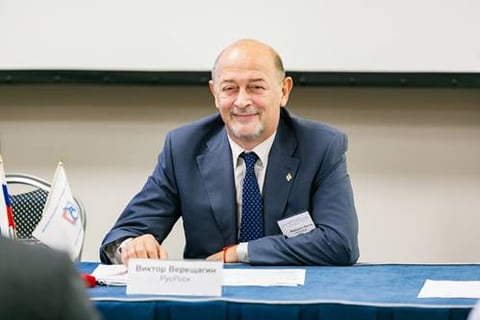 With emerging economies such as BRIC (Brazil, Russia, India, and China) experiencing rapid growth, managing risks is very important in order to ensure the correct trajectory of development.
This is one of the main goals of Victor Vereshchagin (pictured), president of the Russian Risk Management Society (RusRisk). The organisation states that its mission is to increase the efficiency and stability of business in Russia by decreasing risks.
According to Vereshchagin, his career in risk management began unexpectedly. In 2003, he was deputy director of the Expert Institute of the Russian Union of Industrialists & Entrepreneurs (RUIE), a think tank for socio-economic and political matters, founded by former Economic Minister Evgeniy Yasin.
"I was invited by some of my colleagues from business and financial communities to head the new professional association for risk management in our country," he said. "I immediately accepted, because I like to begin new projects. I am experienced in holding many international conferences, workshops and have extensive contacts with entrepreneurs from industrial, financial, and insurance sectors."
Prior to heading RusRisk, Vereshchagin was part of RUIE's Expert Institute for 15 years, and also served a short stint at the Association of Russian Banks. He graduated from Moscow State University's Faculty of Calculated Mathematics & Cybernetics. Later, he obtained a PhD in international affairs from the Institute of Socio-Political Research of the Russian Academy of Sciences.
Vereshchagin believes that the main challenge in heading RusRisk is enlightening the Russian market about risk management, as well as helping it to catch up with other markets that have been practicing risk management for longer. To achieve that goal, RusRisk has partnered with international (IFRIMA), regional (FERMA, PARIMA) and national risk management associations such as RIMS, RMSA, ANRA, AIRMIC and others.
Another challenge, he said, is the reluctance of companies' top management and stakeholders to adopt a risk-oriented approach for their businesses. This is especially true for small and medium businesses, he added.
"My main philosophy in risk management is the embedding of risk management basic principles and mechanisms throughout the entire operations of businesses and federal, regional and municipal organizations," Vereshchagin said. "Also, it's very important to form a culture of risk management to different subjects of economic activities."
Outside of risk management, Vereshchagin has been an independent board member of a major meat producer in Russia for 11 years. In early 2018, he was appointed as chairman of the national committee for standardization in risk management.
According to Vereshchagin, he is a rich man, because of his three sons and five grandchildren, whom he loves spending time with. He also likes travelling, having visited 84 countries worldwide, and is interested in several sports such as chess, basketball, football, and swimming.
To conclude, Vereshchagin advised fellow professionals to ensure risk management's "universality" across all components of a business, and to become a go-to person for management. To achieve this, it is important to continuously learn and raise their professional qualifications.