Got a donkey? Risks of renewable energy transition met with creative solutions | Insurance Business America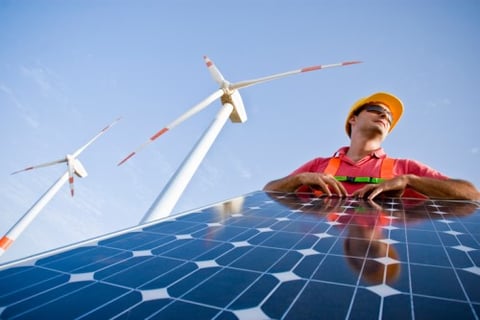 Edsel Carlson has spent 25 years at TECO Energy managing the S&P 500 company's risks. When in July 2016 TECO was acquired by Canada-based renewables specialist Emera in a US$10.4bn deal, he saw everything suddenly become less about coal and more about the sun. TECO subsidiary Tampa Electric was charged with the task of adding six million solar panels to get its renewables percentage up (to 7% – far higher than the national average for utilities).
Carlson has had to address the risk challenges facing his company: solar panels are fragile, can degrade over time, and are notoriously vulnerable to extreme weather. Florida has lots of extreme weather – the names Maria, Harvey, and Irma are a poignant enough reminder of that. His advice to others who might face a similar project?: "Well," he says, "you might need a guard donkey."
How so? One must understand a bit of the background.
Tampa Electric's initiative is part of the growing and unstoppable trend of investment towards a lower-carbon economy. "We believe now is the time to add large utility-scale solar generation, as the costs of construction have come down and while federal tax credits remain in place," said Gordon Gillette, president and CEO of Tampa Electric. So even though solar panels in locations prone to extreme weather mean risk (in the last five years average solar-panel claims severity has risen by 87% mostly due to losses from natural disasters, says renewable insurance provider GCube in its 'Cell, Interrupted' report), the transition has to be made.
The first phase of the project involves a massive construction undertaking. Carlson and his team are busy investigating the physical risks associated with solar panel plants, and to develop a risk management plan he looked to an industry peer for advice – AES Corporation. A Fortune 200 company and one of the world's leading electrical power distributors, AES has solar plants in Puerto Rico and the US Virgin Islands that sustained damage during last year's disastrous hurricane season (it projected adjusted earnings per share to fall by US$.03 to US$.05 per share due to this) so it was the perfect candidate.
"Fortunately, in the utility industry, we're all fairly open and we share a lot," says Carlson. "Their loss control director was so kind as to spend a few hours with us going through the lessons they've learned. We learned a lot with regards to how to secure some of these panels down, and the success that they saw in some of the differences in construction. We took those lessons and gave them to our solar developing group." Some of the fixes are as simple as putting larger washers on things that are bolted down.
Straight forward enough. But Carlson learned that severe weather isn't the only natural phenomenon that threatens solar arrays. "Vegetation growth is another thing," he says. Vegetation management is especially important for ground-mounted solar systems. Tall plants or weeds can shade over the panels and either reduce output or cause 'spot heating' – where, if part of the solar cell is shaded, its overall temperature skyrockets and burns out.
Carlson got busy investigating mitigation techniques, talking to traditional landscape companies (costly) and considering planting types of vegetation that would be good ground cover but wouldn't grow too high.
But the most peculiar risk management tool that Carlson has come across is sheep rentals.
Grazing animals are in fact legitimate risk management tools when it comes to solar plants. (Oita Sekiyu, a Japanese solar component seller, even leased emus to munch down the weeds around a solar plant; Goats are popular choices, too.)
"We've been investigating having sheep," says Carlson. "What you can do is lease the property in and around the solar arrays so sheep can keep the vegetation down."
But what about that donkey?
"You have to have something there to protect the sheep because there are coyotes and other predators," says Carlson. "So we've also looked at having guard donkeys – apparently donkeys are fairly aggressive with wolves and coyotes, so they're pretty good at protecting flocks of sheep."
Ungulates aside, insurance is an important part of Carlson's renewable transition equation, too. TECO already has a broad corporate property policy in place that covers all its assets, which span North America. But right now, while TECO is in the big construction phase of the project, Carlson is working with Marsh to procure a builder's risk policy. Having a large concentration of value specifically in Florida, where the solar arrays are being built, poses additional insurance challenges because of the limited capacity to cover windstorms there. Carlson and his team are considering a few different options. One is to roll the risk into their corporate program, but that has high retentions and deductibles because it's designed mostly to insure TECO's natural gas and coal-fired plants – massive US$3bn facilities. Another option is to get a builder's risk policy that includes one year of operation afterwards. "We're going to look at those options with Marsh and see if it makes sense," he says. "It all depends on the how the underwriters feel about the risk."
Once Carlson has a sound insurance policy in place, plenty of sun, not too much wind, and assorted diligent quadrupeds working for him, what could possibly go wrong?