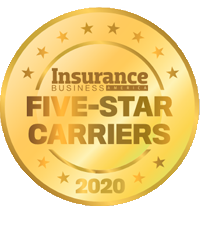 For the seventh year in a row, IBA asked agents and brokers to name the top carriers in the industry by sharing how well they perform in eight categories. Brokers evaluated carriers on a scale of 1 (poor) to 10 (excellent) in the areas of underwriting expertise, technology and automation, claims processing, quick quotes, range of products, product training and marketing support, competitive rates, and commitment to the broker distribution channel.
Compared to last year's results, carrier performance has generally improved. Three categories (underwriting expertise, commitment to the broker channel and competitive rates) all saw fairly significant increases in carriers' average score. However, two categories that enjoyed a bump in score in 2019 (range of products and quick quotes) suffered from a decrease this year.
Overall, a total of 22 carriers managed to receive an average score of eight or higher in at least one category, earning them the title of Five-Star Carrier. Of those 22, five companies earned five-star scores in all eight categories, cementing their status as an All-Star Carrier.