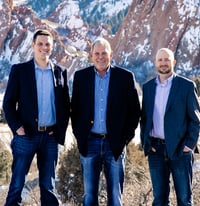 All-star wholesale partner: Western Pacific Insurance Network/Virtus Underwriting Group
Left to right: Virtus president and VP of marketing Eric Richter, president Rick Richter, CFO/COO Jake Goin
In a market with rampant construction defect litigation and marketplace challenges, Rick Richter formed Western Pacific (WestPac) in Colorado in 2003 as an independent construction specialty wholesaler, with the assistance of a few industry friends and the now CFO/COO, Jake Goin.
WestPac partnered with various construction industry associations and specialty markets and spent countless hours in front of the legislature on behalf of the construction and insurance industries. Quickly, WestPac emerged as a leading specialist for construction and contractor insurance programs and became the wholesale partner for independent agents. In 2009, Richter's son, Eric, also joined the business, becoming the fourth generation of wholesalers in the Richter family.
As wholesale acquisitions were sharply increasing, WestPac saw an opportunity to connect on a deeper level with its independent agents and, in 2013, formed Virtus Underwriting Group. Virtus diversified WestPac beyond the boundaries of construction, making it a much broader commercial wholesaler with a multitude of commercial E&S capabilities.
"Our responsibility to our partners goes beyond being responsive – it's about focusing on relationships and being resourceful as well," Rick Richter says. "As a regional independent, we have local expertise and agility to develop unique relationships and deliver unparalleled solutions for all."
Combined, WestPac and Virtus serve the Rocky Mountain region and have independent retailer support throughout the West. The firms strive to remain at the forefront of industry knowledge and expertise, foster success, prioritize relationships and create a family culture for all employees.