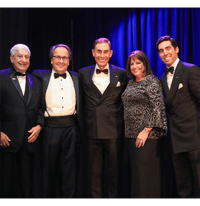 Five-star wholesale partner: Burns & Wilcox
Left to right: EVP Garry Batten; EVP and managing director Blaise D'Antoni; chairman, president and CEO Alan Jay Kaufman; VP and associate managing director Bonnie Steen; COO Daniel J. Kaufman
For 50-plus years, Burns & Wilcox has worked in partnership with more than 30,000 independent brokers and agents to help them achieve success. Offering a range of specialty insurance solutions, the company is recognized for its expertise in commercial and professional liability, property, marine, transportation, environmental, and personal insurance.
To better serve its clients' growing needs in specialty areas, Burns & Wilcox has established personal insurance, professional liability and transportation practice groups and continues to expand that framework into further specializations. In 2019, Burns & Wilcox captured $1.65 billion in premium and recently expanded its presence beyond the US and Canada into the UK and Europe.
"As leaders in the insurance industry, our retail brokers and agents rely on us for deep expertise and access to markets to address the increasing needs of their clients," says Daniel J. Kaufman, COO of Burns & Wilcox and executive vice president of H.W. Kaufman Group. "We take great pride in delivering specialty insurance solutions to better protect those clients in times of need. In 2019, we secured strategic partnerships to further develop our underwriting expertise and product offerings in key markets that posed growth opportunities. As part of the growing H.W. Kaufman Group network of companies, Burns & Wilcox provides access to a robust range of exclusive offerings and capabilities."
Some examples of this include the company's partnership with Wildfire Defense Systems to provide monitoring of all active wildfires in the US, its expansion of cyber risk capabilities with Advisen Cyber OverVue through a suite of analytics and an arsenal of cyber data, and its commitment to implementing leaders in parts of the business where clients need expert counsel.
"We are both hiring and promoting talent in areas where the expertise is needed the most, working to ensure we are positioned to be easily accessible, no matter the location," Kaufman says. "To deepen our bench of expertise across all lines of business, Burns & Wilcox continues to amplify its practice group structure. We are continuing to explore technology investments to improve client service through broker-facing portals, among other quoting and bind-issuing solutions. It is crucial that we work to excel in all facets of the business to showcase the invaluable support we offer our brokers, agents and partners."