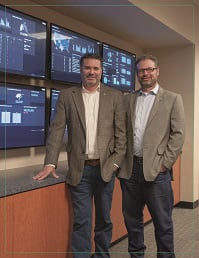 Five-Star Wholesale Partner: BTIS
Pictured: Paul Hohlbein, president (left) and Jeff Hohlbein, co-president and general counsel (right)
In 1998, Norbert Hohlbein established Builders & Tradesmen's Insurance Services (BTIS) with the help of his two sons Paul and Hank, daughter Lisa and son-in-law Jeff. Built around a small artisan contractor general liability program, BTIS eventually expanded to offer contractors license bonds, builders risk, inland marine, commercial auto, BOP, excess and workers' compensation. Now with an average 17.1% YOY growth rate, BTIS still offers every producer the same small business rapport and customer service.
Technology has been a focus for BTIS since the 1990s, and the company's drive to continue breaking rules and pushing boundaries has not wavered: company's online price indication system, comparative rater and email correspondence create a fast and simple environment for producers to quote and bind commercial accounts.
"BTIS utilizes a platform that allows its retail agents to access our products online," explains Paul Hohlbein. "They can quote and bind via the platform. We also utilize our inside sales team to call and assist our retail agents in placing the business. We also utilize webinars to train on our platform and our products."
This year, BTIS is developing a new agent facing interface as well as integrating a new market finder to make easier for agents to place business with BTIS, in addition to adding additional BOP, commercial auto and workers' comp markets.