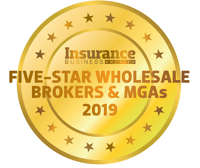 Five-Star Wholesale Partner: USG Insurance Services
Over the past 18 years, USG has become a leading national wholesaler and MGA, offering innovative insurance solutions for hard-to-place commercial risks. Built from the ground up by some of the top executives in the insurance industry, USG was not established to be a competitor in the excess and surplus lines marketplace, but instead it was formed to become a provider of choice industry-wide for risk management challenges.
Today, the firm writes in all 50 states, with a network of 21 branches and over 170 employees. With a $200-plus million book of business, USG has surpassed industry growth standards, while its team of specialists provide focused expertise for a variety of coverages and risk classifications, including aviation, contractors, habitational, oil & gas, transportation, workers' compensation and more. In addition, USG's proprietary technology, I3X: Insurance 3 eXchange, expedites the quote process and policy service, offering retail partners ease and efficiency.
Company

Information
USG Insurance Services

1000 Town Center Way, Suite 300 Canonsburg, PA 15317