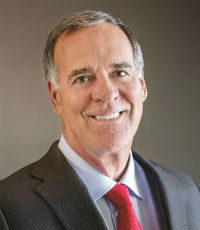 David Lockton, Chairman, Lockton Companies
In June, David Lockton received EY's Entrepreneur of the Year Lifetime Achievement Award in recognition of his years of entrepreneurial leadership, achievements and vision. For more than four decades, Lockton has been part of the core leadership for the world's largest privately held independent brokerage, having served as president, CEO and as chairman for the last 15 years. He has deftly led the company through years of immense growth and high client retention with a "unique ability to take [Lockton Companies'] culture, business and values and combine them with long-term thinking," in the words of former Lockton president and CEO Glenn Spencer.

At the beginning of his career, Lockton decided to abandon his dream of being a lawyer to become a broker after seeing the good start his brother got and the great potential the industry presented for those who were willing to work hard. He believes "that modest beginning is what drives our culture today." When his brother passed away in 2004, Lockton stepped up during a tumultuous time, making sure the company stayed on track as a family-owned, privately held firm and retained its core values and culture.

Apart from seeing the company through significant milestones such as hitting the $1 billion revenue mark in 2013 and the rapid expansion of its operations across the globe, Lockton was responsible for developing Lockton Companies' innovative Claims Cost Control program and for growing its financial services segment, property and M&A practices, and employee benefits consulting operation.

Outside the insurance industry, Lockton remains active in civic and community affairs in Kansas City and leads the company's employees to contribute large amounts of time and money annually to various nonprofits in different countries. An avid outdoorsman, Lockton personally participates in charitable activities such as bike rides and obstacle runs to help raise awareness and funds for health-related causes.
Company

Information
Lockton Companies

444 W. 47th Street Suite 900 Kansas City, MO 64112 United States