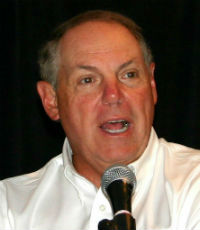 Jim Masiello, Founder, chairman and CEO, SIAA
Jim Masiello has a long track record within the industry of starting businesses and guiding them to success. He is the founder of several Masiello Group entities in many industries, including insurance, real estate, commercial leasing, real estate development, employment services, financial services and travel. He has also consulted and lectured on P&C compensation and incentives for agency producers based on cross-selling initiatives.

Unique to Masiello's endeavors is his ability to enrich the lives of others, as evidenced through his most successful business: SIAA. Masiello created the Satellite Agency Network [SAN Group] in 1983 and grew it to more than 350 member agencies in New England and Eastern New York. The successful SAN Group model was replicated at the national level to form Strategic Insurance Agency Alliance [SIAA] in 1995. SIAA currently has 49 master agencies covering all 48 contiguous states and has signed 6,530 independent insurance member agencies writing more than $6.8 billion in premium, making SIAA the largest independent insurance agency partnering national network.

Over the course of his career, Masiello has been awarded with numerous industry recognitions and has been active in several community and industry-related organizations. He once served as mayor for the city of Keene, New Hampshire, for two terms, and he has chaired the New Hampshire State Board of Education, served as president of the Greater Keene YMCA and was president of the New Hampshire Life Underwriters Association, among many other contributions to community, political, insurance and statewide organizations.
Company

Information
SIAA

234 Lafayette Road Hampton, NH 03842