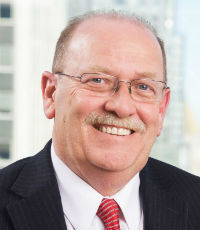 Kevin Wolfe, US marine head; Northeast & global head, Allianz Global Corporate and Specialty
US marine head; Northeast & global head, project cargo
Allianz Global Corporate and Specialty

Kevin Wolfe has held a variety of underwriting and management positions during his 40-plus years in the commercial insurance industry, primarily in the ocean cargo, inland marine and related property markets. He began his career as a trainee at Talbot, Bird & Co., a specialized marine insurer in Manhattan. After that, he held various underwriting and management positions with leading P&C insurers, including Eagle Star Insurance Co., Atlantic Mutual, Liberty International Underwriters and Beazley Insurance, in addition to opening and managing his own marine brokerage.

In 2007, Wolfe joined Fireman's Fund Insurance Company, which is now part of AGCS, where he served for a year as the Mid-Atlantic cargo fi eld manager before accepting the Northeast zone marine head role based in New York. In 2010, he combined that with a role as global head of project cargo.

Recognizing his own success in focusing on specific industry segments, Wolfe has some advice for insurance professionals just beginning their careers: "Embrace the adage 'knowledge is power.' Learn as much as you can about your respective business segment. Continue to develop a strong technical expertise – it will serve you well throughout your career. It also makes it much easier to then engage clients, recognize their risk exposures and needs, and develop proper solutions."

Over the years, Wolfe has been involved in several industry educational platforms, including the IMUA and AIMU, and he teaches continuing education courses for marine insurance professionals. He is also a widely recognized global expert in project cargo, often speaking at industry events and quoted in various media outlets.
Company

Information
Allianz Global Corporate and Specialty

28 Liberty Street, 38th Floor New York, NY 10005-1422