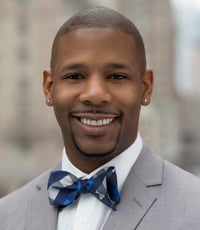 Omari Jahi Aarons, Liberty Mutual
Inaugural President - National African American Insurance Association of Boston
GRM U.S. Customer Advocacy Office - Liberty Mutual Insurance
Omari Jahi Aarons has worked for Fortune 150 companies his entire career as a disruptive and transformational leader. Omari works for Liberty Mutual Insurance as the Director of Employee Enablement for the Global Retail Markets US Region. He is responsible for celebrating employee's career-level achievements and designing a workplace culture that enables employees to do their best work for Liberty's customers and meets their needs.
Omari started his career at Apple and then joined Macy's as part of their college hire Executive Development Program. He progressed quickly to the director-level, concurrently leading a stores training team and the customer service division's mentorship and executive development programs.
A strong champion of inclusion, Omari recently completed a three-year term as the national co-chair of the Liberty Employees of African Descent and Allies employee resource group, leading an organization of over 2,500 Liberty employees. Omari is a fellow in the YW Boston's 2020 LeadBoston cohort and the inaugural president of the National African American Insurance Association of Boston.
Omari is a graduate of Xavier University in Cincinnati, OH with degrees in public relations and theology, and is pursuing a Master of Divinity at Boston University School of Theology.