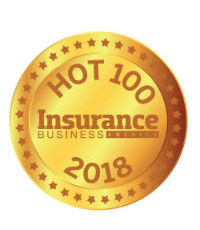 Nichole Barnes Marshall, Global head of diversity & inclusion, Aon
The tide is turning on diversity in insurance, and as global head of D&I for one of the most renowned risk services brands in the world, Nichole Barnes Marshall is one of the key players fostering that norm. Marshall is responsible for Aon's D&I strategies for its tens of thousands of employees across 120 countries. She joined the company in 2013 to help advance its 'Unmatched Talent' agenda throughout its global network.
"The work that I'm doing, it's not just at Aon," she says. "I know my counterparts and direct peers in brokerages, as well as all of our carriers … are making commitments to how they want to move the industry forward. [But] it's going to take some time to change."
Marshall has participated in many conferences and roundtables that are helping to drive diversity by highlighting employment best practices. "As a woman and person of color, that makes me feel good, knowing that there are opportunities for me and for my children – and for other women – to now consider insurance as a viable career and industry," she says.
Company

Information
Aon plc

The Leadenhall Building 122 Leadenhall Street London England EC3V 4AN