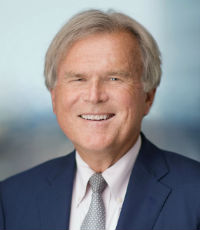 Kevin H Kelley, Liberty Mutual (USA)
Market: USA
Company: Liberty Mutual
Job title: Vice Chairman, Global Risk Solutions
Kevin H Kelley joined Liberty Mutual in 2017 after Liberty acquired Ironshore from Fosun International Limited. Prior to his current role, he held the role of CEO of Ironshore since 2008. Prior to joining Ironshore, Mr. Kelley's professional tenure was with AIG's Lexington Insurance Company, where he is credited with building it into a leading excess and surplus lines insurance company. Under his leadership, Mr. Kelley has expanded Ironshore's international presence with a network of offices offering diverse, specialty insurance coverages throughout its global platform.
Mr. Kelley served as Chairman of the Board and Chief Executive Officer of Lexington Insurance Company from 1997 to 2008. He was elected President and Chief Executive Officer in 1987, after having held a variety of leadership roles within the company. In addition to his Chief Executive Officer role at Lexington, he was Executive Vice President of AIG Property Casualty Group and President of AIG Domestic Personal Lines. Mr. Kelley was also a Director of C.V. Starr & Company and Starr International Companies.
Mr. Kelley is a lifelong resident of New England, recognized for his dedication to community service for a range of state and area organizations and educational institutions. He is currently on the Board of Trustees of St. Elizabeth's Medical Center and Cardinal Spellman High School, which are located in the Boston area. He serves on the Board of Overseers of WBUR and the Boston National Public Radio (NPR) station. In New York, he is Chairman of the Board of Overseers for St. John's University School of Risk Management. He is a member of the Board of Advisors for the John F. Kennedy Library Foundation in Boston and is a member of the Council on Foreign Relations.
Mr. Kelley holds a Bachelor of Science degree in Business Administration from the Boston University School of Management and holds a CPCU designation.