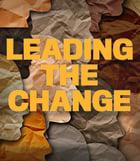 Renée Collins, Travelers
Regional director
TRAVELERS
Years in the industry: 29
After nearly three decades in the insurance industry, Renée Collins continues to dedicate her time to several organizations. She serves as vice chair of the Georgia Diversity Council, sits on IIABA's Diversity Council and is involved with the Women of Color Empowerment Institute, NAAIA, the Atlanta Association of Insurance Professionals and the Dive In Festival.
"My roles with the Georgia Diversity Council and the IIABA Diversity Council give me the opportunity to work with and for individuals both inside and outside the insurance industry," Collins says. "As a minority woman who has had many opportunities for success, I give back as often as I can and use my platform to be inclusive at all levels."
Collins highlights lack of exposure as a major barrier both to entry and promotion in the industry, adding that breaking this and many other barriers will require difficult conversations.
"People of color must be open, honest and unapologetic about who we are and allow others to understand what brings pain and feelings of not being accepted," she says. "While it can be hard to speak up, I strongly believe there are more supporters in the insurance industry for people of color than we have realized. We need those supporters to use their positions to better our community of insurance professionals."