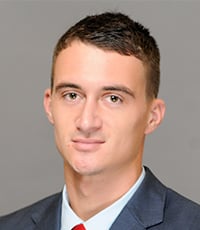 Christian Colangelo, Hull & Company
Underwriter
Hull & Company
Age: 28
After graduating from Appalachian State University with a risk management degree, Christian Colangelo spent three years on the carrier side of the industry, building his knowledge with the help of mentors. Upon obtaining his CPCU designation, he transitioned to the wholesale side and helped Hull & Company launch its Scottsdale, Arizona, office.
"In our first 24 months, we have partnered with several strong retail agents throughout Arizona and the Southwest, who have helped us organically grow our book to over $10 million in written premium," Colangelo says. "COVID-19 has posed some unique challenges, but above all, it has showed us the true value of partnership."
In addition to his day-to-day work with Hull & Company, Colangelo is a member of the Nautilus NexGen Committee and helped create the nonprofit organization Arizona Futures of Insurance, which focuses on connecting the next generation of insurance professionals in the state.