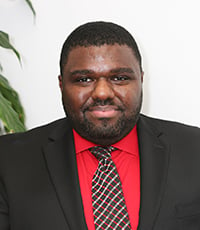 Dieuly Pierre, WKFC Underwriting Managers
Assistant vice president – underwriting
WKFC Underwriting Managers
Age: 34
Dieuly Pierre's initial entry into the insurance industry was unplanned. A recent graduate with a history degree, he landed a job in a small independent retail brokerage. As he started getting involved in more lines, he was inspired to make insurance his full-time career.
"What drew me to want to remain in the industry was the way it permeates through every part of our daily lives, the increased use of technology and the fact that no two days are ever the same," Pierre says. "As the world evolves, so does the industry. There will always be new opportunities available to explore and learn."
As an assistant vice president of underwriting and head of WKFC Underwriting Managers' Renewal Express Department, Pierre manages a team of seven and is responsible for $30 million in GWP renewals. He also helps develop new talent within the organization and is currently expanding his analytical and marketing skills to direct his team into developing new business.