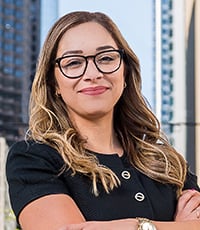 Vanessa Contreras, SCOR Reinsurance Company
Senior vice president and US deputy team leader, professional lines
SCOR Reinsurance Company
Age: 33
At SCOR Reinsurance, Vanessa Contreras assists with the strategy and direction of the casualty treaty portfolio by coordinating efforts among underwriters and managing client relationships. Prior to being promoted to her current role earlier this year, she served as vice president and senior underwriter.
Contreras was inspired to get into insurance by her mother. "She helped low-income families understand their healthcare insurance options and utilize resources they otherwise may not have realized were available to them," she says. "Seeing how her work positively impacted so many families made me want to understand the industry better. It drove me to seek a career that would challenge and fulfill me in the way that her job did for her."
For six years, Contreras served on the Reinsurance Under 40s board. She is currently a member of the Association of Professional Insurance Women and the Professional Liability Underwriting Society (PLUS) and has successfully completed the LAMP program though PLUS and the ASPIRE Leadership Program through SCOR.