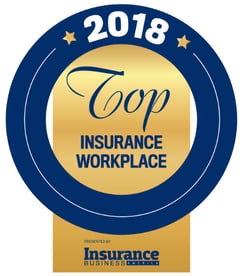 A top workplace can encompass many things – great benefits, great resources, great management – but to uncover the roots of what truly makes an organization a good place to work, one must look at the foundation: its people.
Insurance companies both large and small, and from all areas of the industry, were invited to participate in IBA's first Top Insurance Workplaces survey. Thousands of employees from their organizations responded to share what they love – and hate – about their respective workplaces. Out of the hundreds of companies that participated, only 51 earned the title of Top Insurance Workplace.
Of the nominated workplaces, 58% classified themselves as a retail agency or brokerage, 25% identified with the wholesale channel, 10% as insurance carriers, 3% as third-party vendors and 4% as 'other.' On the following pages, IBA looks at what the aggregated survey results reveal about how insurance companies are performing in regard to diversity, culture, compensation and employee development before getting down to the detail of which companies are indeed Top Insurance Workplaces.
METHODOLOGY
The process to become a Top Insurance Workplace was divided into two phases. In the first phase, IBA invited employers to nominate their organizations to be considered a Top Insurance Workplace. In the second phase, employees from nominated companies were asked to fill out an anonymous form evaluating their workplace on a number of metrics, including benefits, compensation, culture, employee development and more.

In order to be considered, each organization had to reach a minimum number of employee responses based on overall size. Organizations that received an 80% or greater average satisfaction rating from employees were named a Top Insurance Workplace.