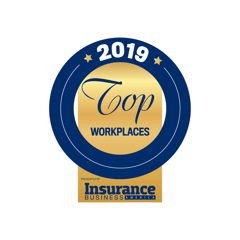 In the era of the gig economy, creating a nurturing and prosperous work environment is more important than ever. To find out which companies in the insurance industry are getting it right, IBA turned to the employees themselves. Thousands of insurance professionals weighed in on how their employers are performing in regard to compensation and benefits, diversity, employee development, and culture.
In the end, 53 companies achieved the distinction of Top Insurance Workplace for 2019. Of these, 64% were retail agencies and brokerages, 18% were wholesalers, 8% were insurers or reinsurers, 8% were insurtechs or technology providers, and 2% were third-party administrators.
Employees also spoke out about which of their employers' strategies and initiatives are particularly effective, including flexible scheduling options, generous health and family leave benefits, diverse hiring practices, and a supportive culture. On the following pages, IBA highlights what the industry's best-rated employers are doing differently and unveils this year's list of Top Insurance Workplaces.
METHODOLOGY
To be considered a Top Insurance Workplace, organizations were invited to fill out an employer form to provide details on their various offerings and practices. Employees from nominated companies were then asked to fill out an anonymous form evaluating their workplace on a number of metrics, including benefits, compensation, culture, employee development and diversity.
In order to be considered, each company had to reach a minimum number of employee responses based on overall size. Organizations that achieved at least an 80% average satisfaction rating from employees were named a Top Insurance Workplace.