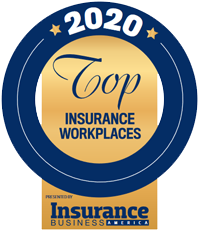 To be a truly great workplace, a company must provide several things to its employees. Some are basic: competitive salary and benefits, the technology and resources required to do their job, a safe work environment. Others are less easily quantifiable: an inclusive and welcoming culture, flexibility to adapt to employees' unique needs, an atmosphere that promotes honesty and encourages growth.
Because nobody knows the ins and outs of a company better than its employees, IBA reached out to thousands of insurance professionals across the country to find out how their employers are performing with regard to compensation and benefits, diversity, employee development, and culture.
Based on their ratings, 67 companies achieved the distinction of being named a Top Insurance Workplace for 2020. Employees also spoke out about which of their employers' strategies and initiatives have been particularly effective, including health and family leave benefits, diverse hiring practices, supportive cultures and how they've handled operations during the COVID-19 pandemic. On the following pages, IBA highlights what the insurance industry's best-rated employers are doing to stand out and unveils this year's list of Top Insurance Workplaces.
METHODOLOGY
The process to become a Top Insurance Workplace encompassed two phases. In the first phase, IBA invited organizations to participate by filling out an employer form, which asked companies to explain their various offerings and practices.
In the second phase, employees from nominated companies were asked to fill out an anonymous form evaluating their workplace on a number of metrics, including benefits, compensation, culture and employee development.
To be considered, each organization had to reach a minimum number of employee responses based on overall size. Organizations that achieved an 80% or greater average satisfaction rating from employees were named a Top Insurance Workplace.