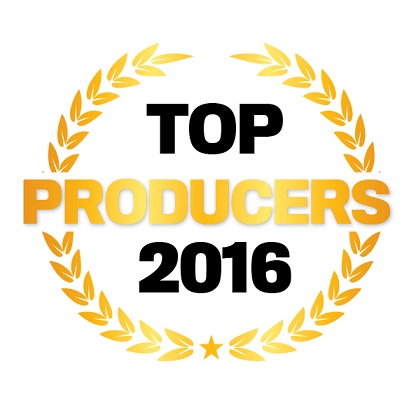 Welcome to Insurance Business America's 2016 Top Producers list. This year, we received an overwhelming response to our request for nominations, and as a result, we're pleased to be able to bring you an impressive roster of industry pros who are making their mark across the US.

Because of the wealth of applications we received, the IBA team also decided to create the Platinum Producers Club, recognizing the success of those at the top of the top – producers with books worth more than $3 million. You'll fi nd them starting on page 42.

Think your name should be on this list? Make sure you nominate yourself for consideration in next year's report. We'd like to extend a word of thanks to all of the producers who put their names forward to ensure we can bring you a list of truly high-caliber industry professionals. We hope you enjoy the insights shared by this year's crop of Top Producers.

THE METHODOLOGY

Rather than sequentially ranking our Top Producers, we decided that, this year, applicants whose own book of business for 2015 (net commissions) exceeded $750,000 deserved a place in the report. Each nominated producer was required to provide specific details about his or her book of business in order to be eligible. IBA then decided to specially recognize those whose books exceeded the $3 million mark by listing them in our Platinum Producers Club.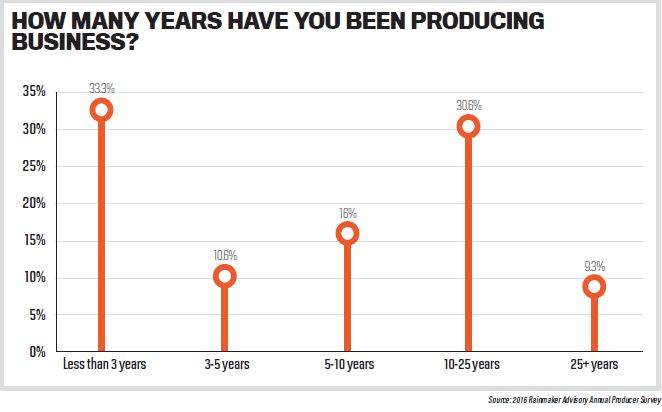 What does it take to be a top producer?

The global insurance market continues to be soft, and the growing consensus is that there's no end in sight.

So it's encouraging to learn that producers are much more optimistic this year when it comes to book growth and new business run rates. That insight comes from David Estrada, founder and managing director of Rainmaker Advisory, a consulting firm that recently polled more than 1,200 producers for its 2016 Annual Producer Survey.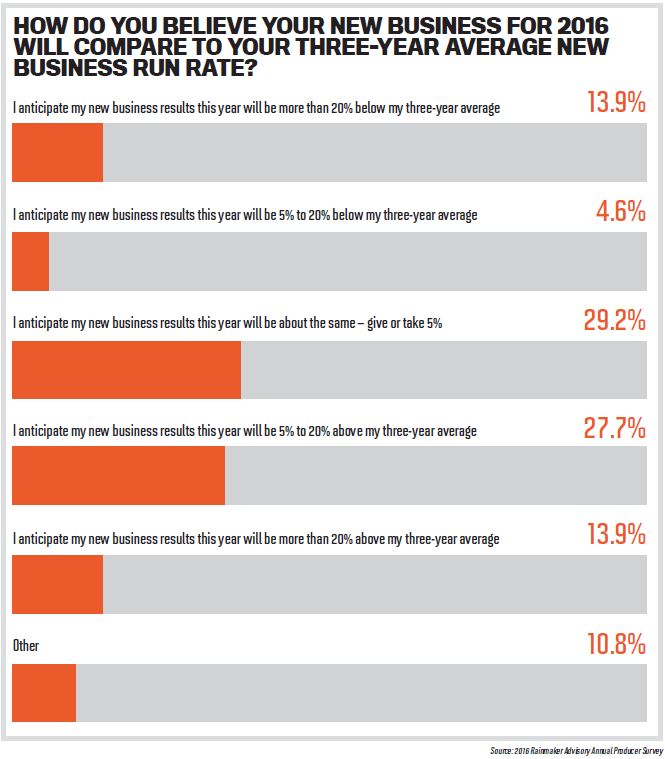 In doing so, Estrada was able to identify several key characteristics that make for a top-performing producer:

• Diligent in undertaking weekly pipeline updates
• Focused sales initiatives by niche industries
• Embraces highly specific definitions of what represents an ideal client/target to prospect
• Has well-refined sales methodologies and processes
• Understands the difference between 'sales' and the 'business of sales'
• Understands he or she is not just an individual contributor, rather a leader of a team
• Understands that through professional development, he or she will be able to write progressively larger, more complex and more lucrative business year-over-year

Rainmaker's survey asked producers to respond to 30 questions about their sales process and outlook. Here's what they had to say on some of the issues.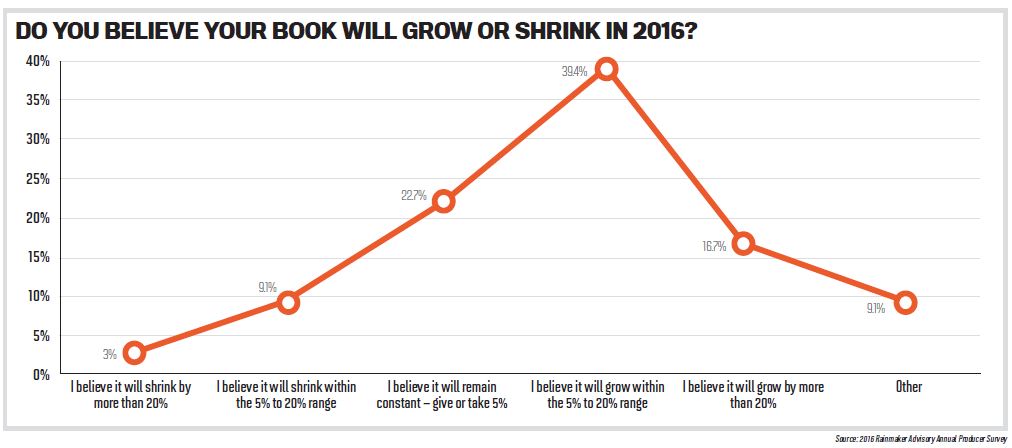 THE 2016 IBA TOP PRODUCERS LIST