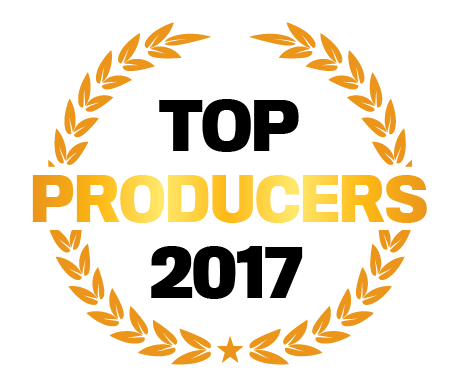 Following an overwhelming response from producers across the country, the nominations for 2017's Top Producers were culled into this list of 100 of the industry's top-performing professionals. To celebrate those producers who rose to the top of the pack, this year's list also features the Platinum Producers Club, which gives special recognition to producers with books worth $3 million or more.

So what does it take to be a Top Producer in 2017? This year's winners come from all walks of life and all regions of the country. Experience counts, but it's not everything: Nearly 44% of our Top Producers have been in the business for 10 to 25 years, while 24% have been in it for less than 10 years. Impressively, two of this year's Top Producers made their mark on the industry in under five years.

THE METHODOLOGY
Applicants who had a personal book of business worth $750,000 or more (net commissions) in 2016 qualified as a Top Producer. Each nominated producer was required to provide specific details about his or her book of business to be eligible. Those whose books of business exceeded the $3 million mark are members of the Platinum Producers Club, recognizing their impressive achievement in this industry.

The Platinum Producers Club
With books of business worth more than $3 million, these producers are the best of the best.
Clinton Anderson of HUB International
Michele Centeno of Arthur J. Gallagher & Co.
Robert Foote of Frank H. Furman
Iva Giddiens of Arthur J. Gallagher & Co.
Matt Hammer of Baldwin Krystyn Sherman
Patricia Hartness of Foundaion Insurance Group
Robert Jellen of HUB International
Robert Klinger of Klinger Insurance Group
Scott Meyer of Willis Towers Watson
Alex Michon of Lockton Companies
Peter Reilly of Arthur J. Gallagher & Co.
Scott Wightman of Arthur J. Gallagher & Co.