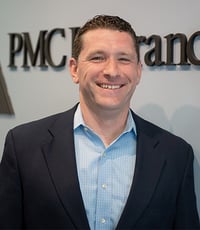 John Wildfire, PMC Insurance Group
Vice president, head of healthcare programs
PMC INSURANCE GROUP
Specialty: Workers' comp for healthcare businesses
John Wildfire joined PMC Insurance Group in 2016 and currently leads its healthcare business unit. As a national workers' comp program administrator for the healthcare industry, PMC partners with retail agents to develop customized solutions that address clients' individual needs.
"I began focusing on workers' compensation for healthcare as our agency responded to our clients' need for expanded knowledge and in-depth execution for healthcare businesses," Wildfire says. "My prior experience provided me with the ability to create programs and grow them successfully."
Wildfire and his team cover the entire spectrum of healthcare, including senior living, physical rehabilitation, hospitals, group homes, mental and behavioral help organizations, and medical temp staffing agencies. He attributes PMC Healthcare's success to prioritizing response time and relationship development.
"Our retail agents lean on us to help them simplify the purchasing process, offer complete risk management solutions and drive down workers' comp costs for their clients," Wildfire says. "As a complete program administrator for all size accounts in every state, PMC has an extensive healthcare-focused team, offers unique risk management services, has created an easy-to-use pay-as-you-go platform and is proactive in the claims handling process."