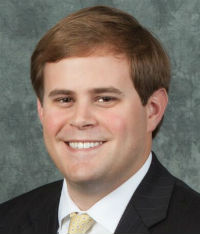 Jim Robinson, Account executive, Robinson & Stith Insurance
Account executive
ROBINSON AND STITH INSURANCE
Age: 27
After graduating from North Carolina State University in 2014, Jim Robinson joined his family business, Robinson and Stith Insurance, as a producer. Today, he's focused on growing the agency's book of business through new opportunities, from crop insurance and life & health to personal and commercial lines, as well as working in all facets of day-to-day operations.
Robinson is a graduate of the New Bern Area Chamber of Commerce's Leadership Craven program, which brings together employees from a wide array of industries to learn about various parts of Craven County. Most recently, he was part of a team that brought back the Great Trent River Raft Race, a popular event in the 1980s where participants built homemade rafts and raced on the Neuse and Trent rivers.
Robinson was asked to serve on the board and advise as part of the legal/insurance committee. The group successfully brought the event back this summer, giving the town's downtown merchants an economic boost. Robinson also serves as president of the Craven County Independent Insurance Agents Association, a nonprofit that gives back to the community through donations and sponsorship opportunities.