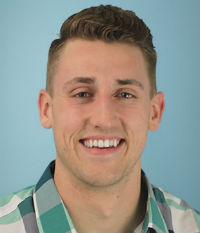 Travis Lankerd, Brokerage underwriters, JM Wilson Corporation
Brokerage underwriter
J.M. WILSON CORPORATION
Age: 24
At just 24 years old, Travis Lankerd has already mastered the art of finding turnkey solutions for MPL, cyber liability and data breach, tech professional liability, media liability, and drone exposures. In early 2018, he secured his Cyber Liability Risk Manager designation and plans to pursue a Registered Cyber Liability Specialist designation by the end of the year.
Heavily focused on growth of J.M. Wilson's cyber liability and tech E&O books of business, Lankerd stays attuned to emerging trends. Earlier this year, he served as the keynote speaker at the Bay Area Insurance Agents Association luncheon, discussing how retail agents can use cyber liability applications to enhance clients' understanding of their cyber-related exposures. In 2019, he will present a crash course in cyber liability to the insurance and risk management program at Olivet College.
Lankerd frequently attends Gamma Iota Sigma alumni events in the Lansing area, including both community service and student outreach/networking events that connect students with professionals in the insurance industry.