Jump to winners | Jump to methodology | View PDF
THE VIEW FROM THE TOP
Women are increasingly making their mark in the traditionally male-dominated insurance industry. For the third year in a row, Insurance Business is celebrating the women who are not just going above and beyond for their clients and organisations, but are championing diversity in every sense. They're also giving back to the community and to the industry, innovating and driving change, fostering young talent, and striving for professional excellence.
It's no secret that insurance has a long way to go to reach full gender equality; recent government stats show that financial and insurance services has one of the highest gender pay gaps of any industry at 23.6%. And there has been much discussion over the years around the lack of women in senior leadership roles in the industry.
However, a glance through this year's Elite Women in Insurance list shows how much the landscape has shifted. Not only are women holding – and excelling in – high-ranking roles, but they are also reaching out a hand to those lower down the ranks to ensure the industry continues to make strides in diversifying its leadership.
As operations claims manager at FM Global, Andrea Garske is one of a small handful of women at the top of the complex claims sector, and she is using that platform to be an agent of change.
"Andrea has made a point of providing job opportunities to female engineering graduates and distributing work within the team to ensure female adjusters are assigned complex and high-challenge losses to support their career development," a colleague says. "In 2020, Andrea hired a graduate female engineer as a trainee adjuster, which gave rise to a majority female team for the first time."
This year's Elite Women know promoting diversity isn't just ethical – it makes business sense, too.
"To take our customer service to the next level as an industry and continue to build our reputation, we needed to adopt a strategic recruitment approach, targeting a more diverse group of people who were more representative of our customers and could therefore build stronger rapport and trust," says Donna Stewart, general manager of long-tail claims at Allianz Australia.
To make progress toward this goal, Stewart established the industry's first formal flexible work program, "attracting people who would never previously have considered insurance as a career by institutionalising work from home long before COVID made this a thing." Her efforts led to significant increases in employee engagement, retention and productivity, as well as customer satisfaction.
As the youngest appointed partner at Holman Webb, Lucy Rooney is intent on showing that the upper echelons of leadership are by no means a no-go area for young women – including those with children.
"I am often vocal about my desire to start a family – and I am pleased to say that with the support offered by Holman Webb, it is absolutely possible to have a family and still be an integral part of the firm's partnership," Rooney says.

Future-focused
This year's Elite Women have provided unwavering leadership during the volatility of the COVID-19 pandemic. Suzi Leung, chief operations officer at Zurich Australia Insurance, led her team to achieve record results while keeping their physical and mental wellbeing front of mind. When their partner in India went into lockdown, she repatriated tasks onshore, speedily onboarding new local teams while also setting up the Indian teams to work remotely.
She is also an encouraging sign of how the industry is evolving. "'Ambitious' doesn't have to be a dirty word for women," Leung says. "Being clear on what I wanted and working hard to achieve it, I have made executive level at the age of 37. What I am most proud of, however, is having done so with two young kids and also being a person of colour/ethnicity. Diversity is more than gender. I am proud to be a woman, but I am also proud to be the daughter of Vietnamese boat people and a first-generation Australian."
This year's Elite Women have also been keen adopters of technology, helping to keep the industry at the forefront of change. Katrin Stoecker, COO of Steadfast Under-writing Agencies, successfully embedded a robotics process automation (RPA) program during lockdown, during which she "success fully led agencies along the RPA journey and manoeuvred many obstacles, such as fear of the unknown and a fear of 'robots taking over my job'".
Kirsty Owens, SA state manager and national portfolio manager of the Steadfast Client Trading Program (SCTP) at Berkley Insurance Australia, has been an advocate for creating new automated platforms to improve service to brokers.
"Kirsty launched the first complete automation for general liability to quote and bind policies on the SCTP and is currently working on professional indemnity within the same platform," a colleague says. "At Berkley Insurance Australia, she is also about to launch a new automated broker platform where brokers can transact with us completely online."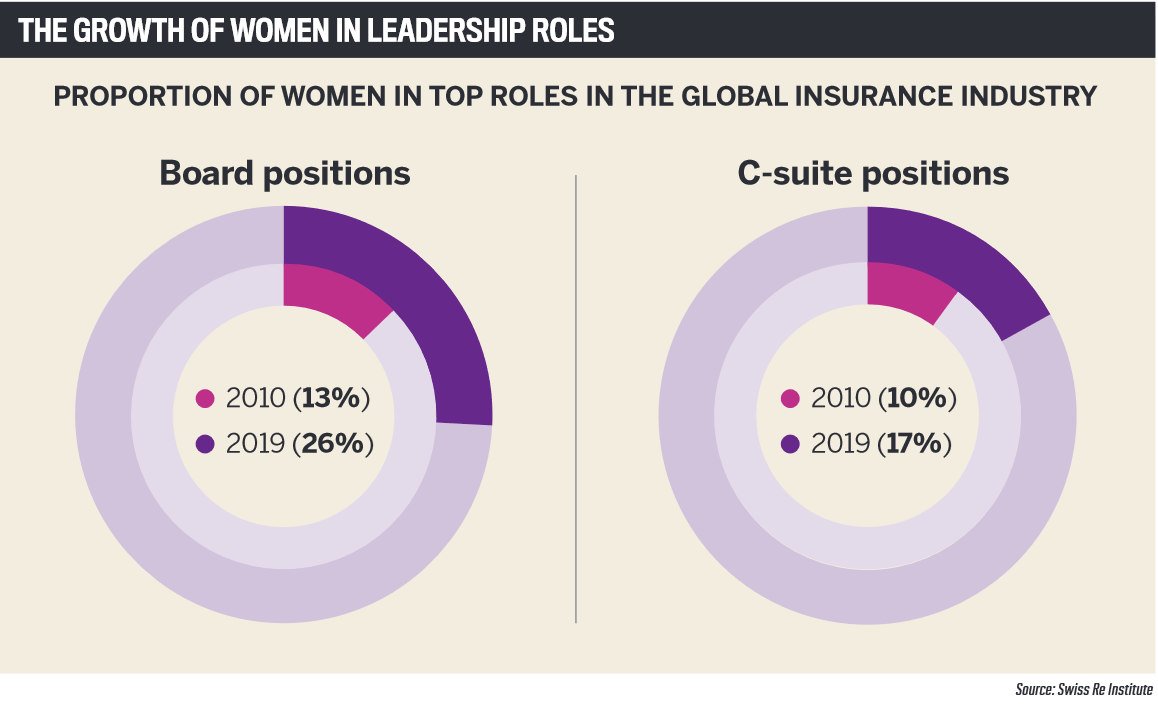 Committed to lifelong learning
On the whole, this year's Elite Women see learning and education not just as a way to further their own careers, but to advance the industry as a whole.
Austcover CEO Maria Parry, a two-time Elite Women honouree, told IB after winning the coveted Australian Broker of the Year Award at the inaugural Insurance Business Australia Awards: "The insurance world is constantly changing, and we need to keep up with developments – so professional development is absolutely crucial."
Pursuit of knowledge goes hand-in-hand with sharing it. Angela Stevens, national claims manager at GT Insurance, has benefited from inspirational mentorship and is now paying it forward.
"I have had two great mentors in my career and wouldn't be the person I am today without them, as they taught me to share knowledge and empower people," she says. "I have received feedback from colleagues that when they talk to me, I always give them 100%, no matter how busy I may be. I am a great listener, non-judgmental, value diversity and know the importance of women leaders is to lift up other women to succeed."
Michelle Klobas, client services director at Gallagher Bassett, is a much sought-after expert in her field. For her, great client service is about "developing strong relation-ships and being open and transparent".
"Having joint undertakings, clear deliverables, measurable successes and key achievements along the way are what build strong and longstanding relationships," Klobas says. "Having the insight to understand our clients' strategic objectives and knowing what success looks like for our clients are key components of customer service. Continuous improvement is key, and never being complacent drives me to be the best that I can."
When she was unable to interact with clients face-to-face because of COVID-19, Klobas seized the opportunity to innovate and improve client communications. "Taking the time to listen, to be clear in our communication and to drive best practices together makes a significant difference for our client partners," she says.
Each one of the inspirational female leaders on this year's Elite Women in Insurance list is innovating, offering top-quality service to clients and pushing the industry as a whole to perform at its best. But perhaps their most important contribution is paving the way for the next generation of female leaders and carving out a future that finds strength in diversity.
Annmaree Bell


Head of strategic and business Insights, Zurich General Insurance, Australia & New Zealand

Caitlin Carson


Victoria state practice leader — FINPRO, Marsh

Catherine McNair


Head of diversity and inclusion, QBE

Deb Gibson


Client director, Aon

Demetra Day


Head of major accounts division, Australia and New Zealand, Chubb

Dianne Phelan


Group operations manager, BJS Insurance Group

Donna Stewart


General manager, long-tail claims, Allianz Australia

Hilary Bates


Chief operating officer — life and investments, Zurich Financial Services Australia

Jan Whittle


Director, High Street Underwriting Agency

Jo Fox


Executive operations officer, Chubb Insurance Australia

Julie Mitchell


Chief general manager, personal injury, Allianz Australia

Julie Morgan


Head of technical claims, Australia and New Zealand, Zurich Australia Insurance

Julijana Sumner


Claims manager and practice leader, financial lines, Asia-Pacific, AXA XL

Katrin Stoecker


COO, Steadfast Underwriting Agencies

Kay Jackson


Director, Simplex Insurance Solutions

Kerri-Anne Varkoly


Head of broking operations, Howden Insurance Brokers Australia

Kirsty Owens


State manager, SA; national portfolio manager, SCTP, Berkley Insurance Australia

Lyle Steffensen


Practices leader, Pacific, Marsh Australia

Maria Parry


CEO, Austcover

Meg Long


Group general manager, McLardy McShane Group

Melanie Slack


CEO, Australia and New Zealand, Swiss Re Corporate Solutions

Mellissa Naidoo


Vice president and mutual board director, MDA National

Michelle Klobas


Client services director, Gallagher Bassett Services

Michelle O'Dowd


Head of PRS, Australia and New Zealand, Chubb Insurance Australia

Paula Eggers


Corporate commercial leader, Queensland, Marsh

Prudence Chang


National sales development manager, National Credit Insurance Brokers

Prue Willsford


CEO, ANZIIF

Quanchai Burns


General manager, enterprise optimisation, Allianz Australia

Retha Van der Merwe


Executive director, Omnisure

Sarah Lyons


CEO, Gallagher Australia

Simone Dossetor


COO, Munich Re Australia

Susan Donaldson


Head of claims, Australia, Berkshire Hathaway Specialty Insurance

Suzi Leung


Chief operations officer, Zurich Australia Insurance

Tiana Iuvale


State manager, broker solutions, Queensland, CGU Insurance
Nominators were asked to describe their nominee's standout professional achievements over the past 12 months, along with their contributions to diversity and inclusion in the industry and how they've given back through volunteer roles and charity work. Recommendations from managers and senior industry professionals were also taken into account.