Gravity Risk Services MD on where he plans to take the business | Insurance Business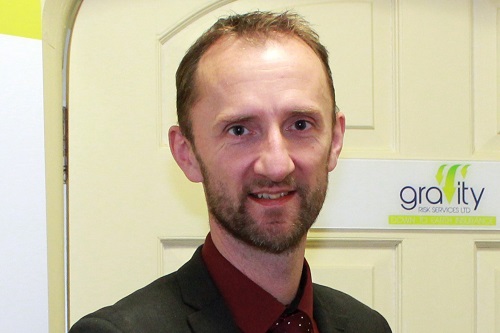 Gravity Risk Services managing director Dale Collett (pictured), who made the switch to broking in the mid-'90s after starting out as a commercial underwriter, is leading the Corporate Chartered Insurance Broker towards £15 million in gross written premium.
Insurance Business caught up with the experienced executive, who shares how they are realising that target, what balance to strike, and where he might find himself after hanging up his boots.
What brought you to the world of insurance at age 18?
Well, most people say they fell into insurance but I was virtually forced into it! Having completed my A-levels and not going to university, I was at home getting nagged by my parents to apply for jobs and doing nothing about it. Eventually my mum got so fed up with my inactivity she applied for two vacancies on my behalf! One was at Lloyds Bank and the other at Royal Insurance. I was lucky enough to be offered both jobs and chose to go to the Royal on a starting salary of £4,216.
After several years, what drove you to pursue a career in broking?
After seven years with the Royal where I managed to get experience in many different disciplines including new business underwriting, managing a team, and technical claims handling, I felt I had achieved a good grounding of knowledge and it was time to move to a smaller organisation with more ambition and to test myself in a sales environment. I did not realise what a complete contrast to the Royal it would be. I went from the slow-moving world of technical claims with lots to support to a role as a new business executive at a broker in Leeds where I was given a desk and a phone and just told to get on with it!
As founder and managing director of Gravity Risk Services, what do you envision for the Corporate Chartered Insurance Broker?
Our mantra is to be better today than we were yesterday. We aim to continue our fast-track growth, while keeping our strong identity of being independent, community-led, and entrepreneurial. Our behaviours define our culture, so our whole team has contributed to our 'core team values' which define the behaviours which we expect of each other in the business. This really helps to get the sense of belonging, togetherness, and trust which is vital for us to achieve our goals. I always want us to have a strong heart, which hopefully never stops beating! We also invest heavily in systems to ensure our operation works like clockwork and the systems control the outputs.
Our plan is to continue our fast-growth pattern and to reach £15 million GWP by 2027. We will achieve this if we deliver the 'right service to the right client' day in, day out.
In your three decades in the industry, what would you say has been the most notable change?
That question makes me feel very old! The industry is still very risk-averse and conservative, so generally changes slower than most other sectors. The industry has a habit of being dragged into change rather than being on the front foot of innovation. Much of the way we operate in being 'hands-on advice led' is largely unchanged and I think this is a good thing. The balance to strike is embracing market, regulatory, and technology changes while being true to your identity and maintaining your values.
If you were to leave insurance for another sector, which one and why?
I suspect it's a bit too late for that! I have been described as a whirlwind to work with and when someone says to me 'can't you just slow down', my answer is always 'can't you just speed up'! As such, when I am ready to pass on the baton at Gravity, I could see myself helping an energetic start-up or SME in any sector in a non-exec capacity. I admire anyone starting their own business and can hopefully help other owners make the transition from being a 'one-man band' into a fully formed, growing business. My daughters are still young, so if they go into business after they finish their education, there may be an opportunity to help them. Whether they would want me around is another matter!
Name one thing your peers probably don't know about you.
In the 1980s, at the time when Only Fools and Horses was really popular, I was once in London and heard a shout across the road from a man who said 'oi Rodney, over here my son'! The man then ran across the road with his friend and asked me for my signature, thinking I was Nicholas Lyndhurst! I didn't want to spoil his moment, so signed the paper and he went off happy thinking he had met someone famous that day!
My nickname is Moose, which was because I was responsible for Cambridge United Football Club adopting a moose as their mascot. It was in the days of inflatable bananas at football matches and it was the first game of the season away at Grimsby and everyone was enjoying the summer sunshine. I had just returned from a holiday in Benidorm and had gone straight to the match from the airport. As I had not had chance to have a wash since being in Spain, during the match I said to my friend 'don't come too close to me, I stink like a moose!' After that, moose mania developed like wildfire with all of the Cambridge fans singing moose songs and 'doing the moose' impression. Even the Cambridge players and manager joined in at the end of games! The club still has the moose as their mascot.