RSA on building on a strong foundation of people and partnerships | Insurance Business UK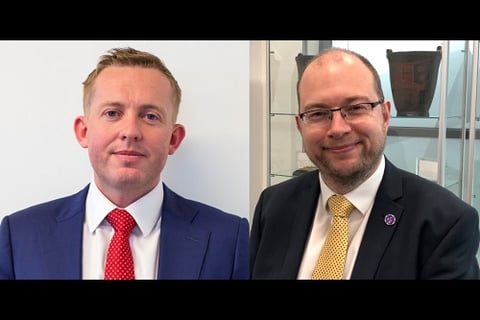 With the insurance industry currently going through one of the most sweeping periods of upheaval it's ever seen, many insurers are evaluating their strategies and relationships to see which aspects remain useful and which ones need retooling.
With that in mind, Insurance Business caught up with two executives from RSA to discuss how the British insurer is developing its regional trading and e-trading propositions, and how these influence its relationships with brokers.
Lee Mooney (pictured left) is RSA's UK regions director for its commercial risk solutions business, while Paul Trivett (pictured right) is the firm's e-trading director.
According to Mooney, RSA's UK-wide network allows it to have experts embedded in local markets and harness their expertise to serve brokers and clients best.
"The heart of our regional strategy is based on a strong foundation of people and partnerships," he said. "We have the capability to underwrite and provide customer propositions for all product lines in each of our trading sites. Each of our portfolios, which include property, construction, professional risks, and renewable energy, to name a few, has a defined appetite and proposition. For example, we have launched a manufacturing campaign across our packages book that provides a bespoke proposition to this trade sector."
With regard to areas of improvement, Mooney says that RSA is targeting growth, but it wants to make sure that it is underpinned by profitability and longevity.
"We have a strong business to build on and in doing this we have to choose the right partners with the right proposition for mutual return," he said, "We pride ourselves on not following the pricing or funding dips in the market or chasing business for short term scale – it is this long term view that will ensure we remain a consistent partner who helps our partners grow in what is becoming a fragmented marketplace."
Meanwhile, Trivett shared developments regarding RSA's e-trading strategy, which aims to make things more convenient for all parties – insurer, broker, and customer.
"We have recently refreshed our business combined and professional indemnity products," said Trivett. "The biggest benefits are simpler customer journeys and being able to trade larger cases online. The simpler journeys are achieved through utilising data enrichment and intelligent question sets on the RSA Online platform. The ability to trade larger risks online is also proving attractive and we see confidence growing in this space. We are continuing to refresh and expand our e-trade product suite."
However, insurers placing increased focus on their online offerings has naturally led to fears that brokers might be going the way of the dinosaurs. Trivett, however, argued that technology should not be viewed as a threat, but rather as an opportunity.
"The insurance market is evolving in a similar way to other industries and professions," he said. "When the right technology is used, it can deliver great benefits. As we review our e-trade products, the focus is on developing and utilising technology to improve our e-trading footprint, writing larger risks online and overcoming some of the real and perceived hurdles. We want to address those hurdles in partnership with our brokers as well as celebrating and championing the many successful solutions we are jointly providing for our mutual clients. E-trading provides brokers with a platform to trade in a slicker way while having the assurance that there are experienced underwriters on hand to assist when the occasion arises."
"By embracing digital, brokers will have the freedom to focus on the advisory space and to truly differentiate their proposition through their people and capabilities," Mooney added.
Working to meet brokers' needs
According to Mooney, RSA's broker partners are facing several challenges, such as increasingly complex regulation; fast-paced technological development; a need to diversify capabilities; and economic uncertainty.
"To me, the rapid evolution of technology is one of the most pressing concerns for brokers," he said. "Consumers are becoming ever more tech savvy – they want the flexibility of greater choice, the ability to make quick decisions and ultimately they seek ease of purchase. The challenge then, becomes how the broker market, alongside insurers, can position their businesses in readiness for this, to ensure that cost is minimised but business flow is maximised."
Trivett emphasised the importance of service for brokers and businesses in general.
"We want our brokers to know they are important to RSA and when coming through the online platforms, service absolutely plays an important role whether that is the product being able to quote straight through or the underwriter working with the broker on a referral," he said. "When we refresh products, such as business combined and professional indemnity recently, we reached out to many brokers to understand what works and what doesn't. We are focused on delivering products that add value for the broker and deliver a solution that is relevant and straightforward."
Furthermore, Mooney reiterated the company's focus on developing its partnerships and people.
"We have strong partnerships at RSA that are based around our strong proposition and our people," he said. "We pay attention to all aspects of our relationship with partners to ensure they are not just solely transactional."
Mooney cited RSA's Broker Leader Programme, which selects 10 future leaders from some of RSA's key broking partners and provides management and leadership training tailored specifically for the general insurance market.
"The course is designed to support individuals in their careers, helping to equip them with strong skills in areas such as strategy, business planning, HR, talent management, and financial management," he explained.