List of COVID-19-related cover available for UK travellers | Insurance Business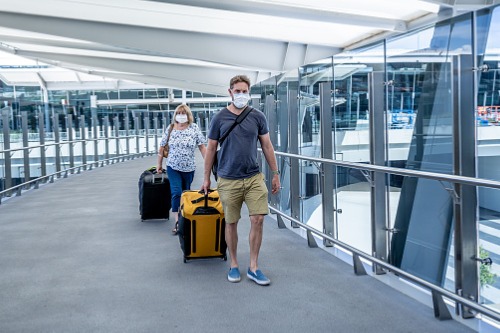 The COVID-19 pandemic has caused a seismic shift in the way people travel, prompting insurance providers to launch policies to better serve their customers.
Some travel insurers are providing policy options to ensure that their clients are protected during their journey. Independent.co.uk has compiled a list of insurers offering COVID-19-related travel insurance policies for UK citizens. Here is a selection of some of the leading names:
AllClear
AllClear is offering COVID-19 cover to its Clear Gold, Gold Plus and Platinum policies at no extra charge. This covers up to £15 million in emergency medical expenses and up to £25,000 in cancellation and curtailment costs. Policyholders, their travel companions, and the people they stay with are also eligible for claims if they contract the virus before they travel or while on vacation. They are also covered if they need to return home early or have been required by the National Health Services (NHS) to self-isolate at the time of departure.
Allianz Assistance
Allianz Assistance provides cover for cancelled or shortened trips resulting from coronavirus infection of either the policyholder or a travel companion, or if either one is required to self-isolate because they are showing COVID-19 symptoms. Cancellations due to quarantine or lockdown measures at the travel destination are also covered. The insurer also offers coverage for COVID-19-related medical costs while abroad as long as there is no advice from the Foreign Office warning against non-essential travel. Policyholders and their companions are also covered in case of repatriation or extended stay for contracting the virus.
Nationwide
Nationwide is the only insurance provider that offers cover for trip cancellations resulting from changes in the Foreign Office's advisory. It also provides protection if a country that policyholders are travelling to suddenly imposes border restrictions due to the pandemic. But this will all change starting January 01, 2021. After that, Nationwide will only provide cover for cancelled trips resulting from coronavirus infection of the policyholder or a travel companion, and COVID-19-related medical expenses while travelling abroad.
Staysure
Staysure's COVID-19 cover includes trip cancellations due to infection, emergency medical expenses, and repatriation. Costs incurred for having to self-isolate and for trips cut short are also covered.
tifgroup
tifgroup offers its customers 'COVID cover' as standard on some products, including their direct brands Holidaysafe, Alpha Travel Insurance, Flexicover and Insurancewith. The cover includes cancellation in the event that you, or anyone named on the policy, tests positive for COVID-19 within 14 days ahead of departure. It also covers those who have been denied boarding at an airport as a result of a positive test or high temperature, and medical expenses and repatriation as a result of developing COVID while abroad.
Travel Bag Insurance
Travel Bag Insurance offers cover for holiday cancellations if the policyholder or travel companion receives a positive diagnosis of coronavirus from an NHS test within 14 days of the start of the trip. Customers are also covered if they are denied boarding due to a high temperature or a positive test and for medical costs incurred if they fall ill while abroad. Accommodation costs resulting from an extended stay because of coronavirus infection and changes in Foreign Office advisories are also covered.
Trailfinders
Trailfinders provides cover for cancelled trips due to COVID-19 infection or if the policyholder or their companion are instructed by the NHS to self-isolate. Medical expenses abroad and accommodation extensions resulting from coronavirus infection are also covered. The insurer also offers coverage to cancelled pre-booked excursions if the travellers are instructed to self-isolate.
Virgin Money
Virgin Money now offers new customers additional COVID-19 coverage, including for medical expenses, and cancellation and curtailment, while existing customers are automatically covered. The coverage includes coronavirus treatment while abroad and additional accommodation (up to £2,000) if the policyholder needs to extend their trip due to treatment. Customers are also covered if they need to cancel a trip because they or a member of their family or travelling party are medically diagnosed with coronavirus or personally instructed to self-isolate by an NHS service or medical professional.