NFU Mutual figures show sharp rise in rural crime | Insurance Business UK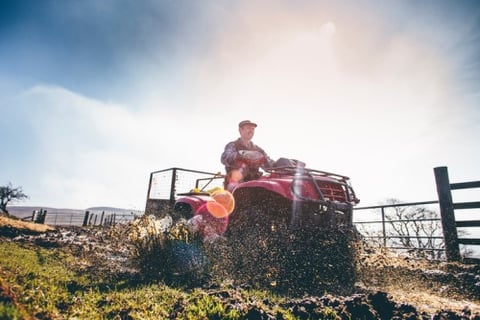 Insurer
NFU Mutual
has warned that countryside criminals are becoming "more brazen" as it revealed a sharp rise in the cost of rural thefts during the first half of this year.
In what the insurer called a "deeply worrying" trend, claims increased more than 20% during the first six months of 2017, contrasting with a 4% drop to £39.2 million for the whole of last year.
Regular reports of suspicious characters watching farms, combined with the threat of becoming a victim of rural crime has led to high levels of anxiety among farmers, Farmers Weekly reported.
"Countryside criminals are becoming more brazen and farmers are now having to continually increase security and adopt new ways of protecting their equipment," Tim Price, NFU Mutual rural affairs specialist, said in an NFU annual report.
Being "staked out" by criminals is the biggest worry for those in the country, with long police response times the second most cause for concern. Land Rovers, quad bikes, tractors, tools and livestock are a key target for criminals, despite increased security on farms.
"In some parts of the country, farmers are having to turn their farmyards into fortresses to protect themselves from repeated thieves who are targeting quads, tractors and power tools," Price said. "They are using tracking devices on tractors, video and infrared surveillance in their farmyards and even DNA markers to protect sheep from rustlers."
NFU Mutual, a dominant insurer in the rural space, had responded to members' concerns by working with police and investing more than £1 million in combating the trend for crime, according to the report.
In Scotland, combined efforts from NFU Mutual and Police Scotland, which joined forces to form the Scottish Partnership Against Rural Crime, saw the cost of rural theft fall by more than 32% last year. Similarly, in Northern Ireland, a Rural Crime Partnership which brought together NFU Mutual with police and other organisations, reduced the cost of rural theft by 14.9% in 2016.
However, countryside crime costs in England were on the up during the same 12-month period: in north-east England crime rose by 8.7%, followed by 5.6% in south-west England, and 3.7% in East Anglia.
"When police, farmers and other rural organisations tackle rural crime in an organised way, these schemes can be extremely effective," Price added.
Related stories:
Lock up your animals
Global 100 brands ranking released – and just three are insurers