Calculating and offsetting your carbon footprint – how insurance can help | Insurance Business UK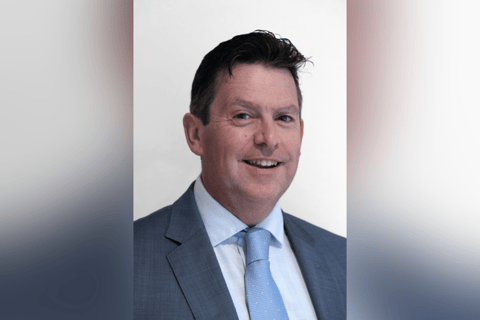 With his 35-year career in financial services and his impressive track record of senior roles at firms including Barclays, Aviva, Allianz, First Central and Kingfisher, Andy James (pictured) has been in the market long enough to recognise when and where the winds of change are blowing.
Now stepping into his most recent leadership role as CEO of Zixty - a new app-based motor insurance provider – he highlighted how the role of the private car in the UK is changing, propelled by financial pressure, environmental concerns, and the rise of remote working. Zixty's first product launches this month, he said, offering the UK's first short-term car insurance with free carbon offsetting.
Discussing how he came to join the provider, James noted that he was brought in by its founders who recognised the opportunities afforded by the sharing economy but felt that its insurance needs were not being particularly well-served.
"Their background is in marketing, particularly social media marketing and they wanted to find someone with an insurance background to come in as well," he said. "We have three groups within the founders – one very marketing focused, one which is technology focused… and one with an insurance background, which is me and the head of operations that I've brought in. So, we've got a real mix."
The assembled team then began to explore what the sharing economy of the future could look like – with an immediate focus on short-term and temporary cover, and a view to moving into usage-based insurance further down the line. While looking at their target audience, he said, they kept bumping into the expectations of customers around ESG, with consumers keen to reduce their environmental footprint but unsure how to go about doing so.
Read more: AXA's reforestation programme takes root
"That morphed into the idea of 'well, why can't we do it for them?'," he said. "If Zixty, as an organisation decide we want to be carbon neutral, which we have, then we've got to make sure we've got the credentials to back that up. So, we got Green Mark accreditation, which was a process we went through to demonstrate how we're being environmentally responsible. But how to take that to the next level?
"If you look, for example, at the FCA strategy for ESG, they're talking about putting the responsibility on financial services companies to help consumers adapt to the environmental regime that should be coming. So, we thought about how we could help them do that and use technology as a way to help customers understand what their eco carbon footprint is and also help them resolve it."
Zixty's first product has built carbon offsetting into the core of its policies and the service is free of charge to customers. It works by calculating and offsetting the carbon footprint of up to 100 miles of journeys per day, with the short-term policy coverage ranging from 60 minutes to 28 days. The app-based technology is provided by Inzura, he said, and sees vehicle movement data collected through the app, with machine learning used to analyse the data and calculate the CO2 emitted from journeys.
"So, effectively, a customer will download the app, they will answer a few questions… The customer gets the quote, we then give them the opportunity to decide whether or not they want to opt in to Zixty miles. And if they opt-in, we then use telematics while the customer is driving to get an understanding of their driving behaviour.
"Through our data enrichment, we're able to pick up on the vehicle that's being driven and get an understanding of its emissions data. Then once the policy is in force, we're able to get an understanding of how many miles they're driving and how they're driving those miles. Are they accelerating harshly, braking harshly or speeding? This does two things actually, as all of these are risk indicators in telematics in general but they're also all environmental driving indicators."
The team at Zixty believes there is a link between good driving behaviours from both a risk profile perspective and an environmental perspective, James said, and he's interested to see how this translates into conversations with underwriters going forward.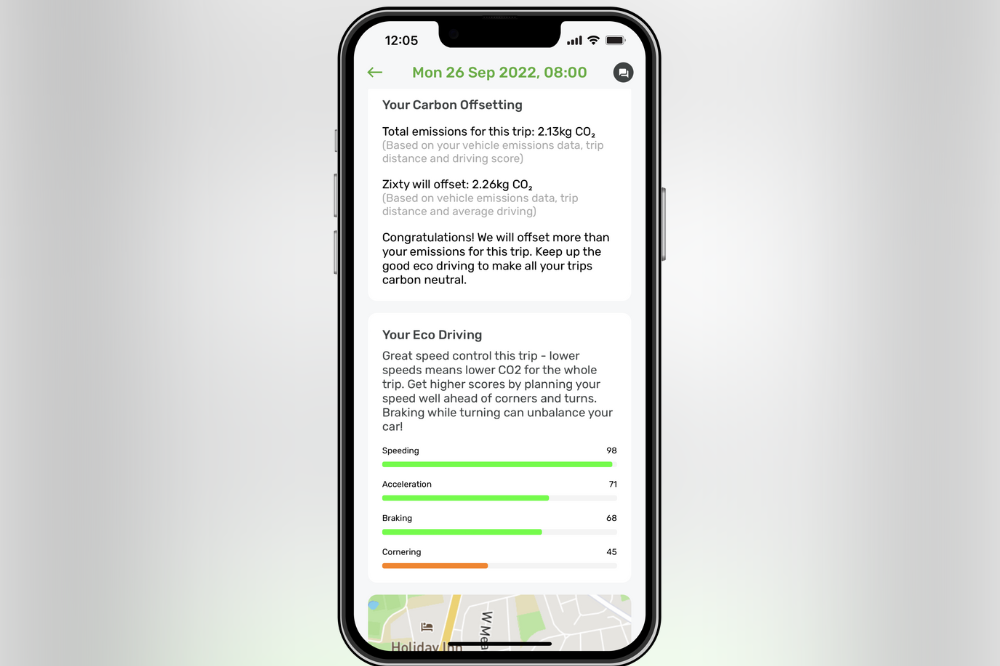 At the end of the policy term – whether an hour, a day, or 28 days – Zixty will sum up the overall carbon footprint that the customer has incurred, he said, and will then offset the carbon burned on the customer's behalf, measured against an average. Every journey will give the driver an eco-score of one to 10 based on how they're driven – with a high score meaning the driver will end up being carbon negative when offset against the average, and a low score meaning they are carbon positive against the average.
Read more: App-based telematics insurance – what does it mean for insurance brokers?
Zixty will also plant a tree for every policy that gets taken out, James said, as well as providing hints and tips to help customers improve their driving behaviour for the future. It's all part of the firm's ambition to create meaningful change in a way that reduces the pressure on consumers and takes a non-judgemental stance to moving the dial on climate solutions.
Nobody at Zixty is an eco-warrior, James said, but rather they each recognise the small and incremental steps that can be taken to create a healthier environment. The firm has been established to help consumers and the wider insurance market to do the right thing around ESG – an especially timely consideration given the wider economic turmoil facing businesses and individuals which could lead to ESG measures falling out of sight and mind.
As for what's next, James highlighted that Zixty's short-term product is being launched on iOS and will be built out into Android over the next couple of months, before the team looks at an indicative web capability as well. Moving into next year, the provider will be exploring pay-per-mile opportunities given that the logical next step to offsetting the carbon costs of consumers in the short term will be making that solution work all year long.
"And clearly, we've got to take our insurer partners with us on that journey," he said.
Zixty's policies are underwritten by a growing panel of motor insurers, including KGM and First Underwriting – both of whom are very experienced in that short-term space. Part of the ongoing conversations the team is having with its panel are around its longer-term expansion plans for the usage-based space, he said, and around partnering with them on that ambition going forward.
"So our soft launch is really about getting an understanding of where we sit in the market and then having a look at whether there are any cold spots within our footprint as well… But certainly, we're very happy with the panel we've got," he said. "And the short-term motor market is worth about £150 million GWP right now. We think that with our green proposition, and the right pricing and the right product, we would want, within the first three years, to take 10% of that market. So that £15 million GWP mark is really where we're aiming at."