Crash-for-cash hotspots revealed – insurance industry reacts | Insurance Business UK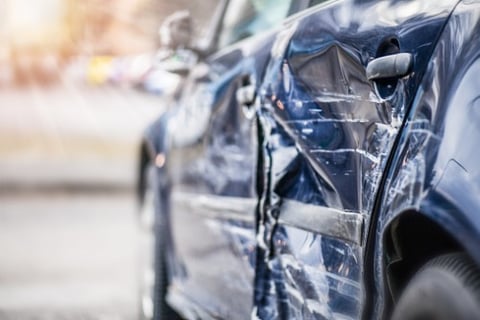 Analysis by the Insurance Fraud Bureau (IFB) has found that, of 2.7 million motor insurance claims made across the UK between October 2019 and the end of 2020, more than 170,000 could be linked to suspected crash-for-cash networks.
Also, according to the IFB, below are the top 10 high-risk postcodes when it comes to this nationwide insurance scam.
| | | |
| --- | --- | --- |
| Rank | Postcode | Area |
| 1 | B25 | Birmingham |
| 2 | B34 | Birmingham |
| 3 | B8 | Birmingham |
| 4 | BD7 | Bradford |
| 5 | BD3 | Bradford |
| 6 | WS1 | Walsall |
| 7 | BB9 | Blackburn |
| 8 | BD8 | Bradford |
| 9 | B27 | Birmingham |
| 10 | RM18 | Romford |
"Crash-for-cash fraudsters bring devastation to countless victims and increase motor insurance costs for us all," asserted IFB director Ben Fletcher. "The IFB's hotspots analysis is a stark reminder that although great strides have been taken in tackling the problem, these car crash scams are all too common."
Road users are encouraged to report suspicious activities to the IFB 'cheatline' at 0800 422 0421. Detective Chief Inspector Edelle Michaels, head of the City of London Police's Insurance Fraud Enforcement Department (IFED) added that IFED is committed to combatting crash-for-cash criminals, whose actions are causing honest policyholders to face higher premiums.
Meanwhile, Clare Lunn, financial crime director at LV= General Insurance, said protecting consumers from fraud is a top priority.
"As we come out of lockdown and more traffic returns to our roads, drivers need to be ever more vigilant," she stressed. "Threats like 'crash for cash' continue to evolve, and it's vital motorists understand how to spot the signs and report it.
"As a major insurer, working with the industry including the IFB means we can collaboratively identify and convict criminals who attempt this type of activity, to keep our roads as safe as possible."
Also commenting on the IFB announcement, QBE Europe's special investigation unit manager Jon Radford said crash-for-cash scams made up "a hefty proportion" of the £60 million worth of fraudulent claims it foiled last year.
Radford highlighted: "The technology we now have allows us to quickly identify staged accidents and, unfortunately, we have seen some cases where the public have been so wilfully put in harm's way by criminals who think they are going to make a quick return.
"It's often criminal gangs at the heart of this type of fraud but we have also come across some spectacularly basic, and therefore spectacularly unsuccessful, attempts from opportunistic fraudsters. It's fantastic that the industry is increasingly working together to crack down on this fraud, as ultimately it's saving all insurance buyers money and making our roads safer."
For Association of British Insurers general insurance policy director James Dalton, it is "so important" for all motorists to be on guard, especially as the potential targets increase with the easing of pandemic restrictions.
"If you suspect an incident is suspicious, do not put yourself at risk but report your suspicions to the IFB's confidential Cheatline," stated Dalton, who also highlighted the impact of fraud on insurance costs.