Aviva director on the importance of reporting fraud | Insurance Business UK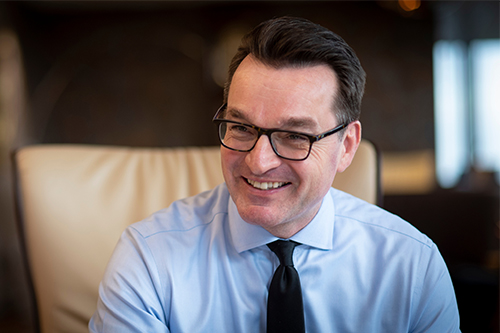 Anyone who has been, or who knows someone who has been, the victim of fraud will understand the gamut of complex emotions experienced during such a distressing situation. With the COVID-19 crisis still in full swing, there has been an uptick in fraudsters taking advantage of the emotional and financial vulnerability of individuals, with the economic conditions created by the pandemic creating a perfect storm for fraudulent activity.
Peter Hazlewood (pictured), the group financial crime risk director at Aviva, noted that insurance scams range from attempts to sell people unsuitable insurance products to, at worst, stealing entire retirement savings from victims. The impact of such activity on victims is absolutely devastating, he said, and these effects are not just financial but also have detrimental mental health repercussions.
Read more: Aviva Fraud Report: COVID-19 scams run rampant
This is something he has seen time and time again and, more than anything else, Hazlewood said, if he could send out one clear message to the wider public it would be that they are not alone in this, and should feel no shame in coming forward.
"I know that people might feel embarrassed about the fraud, about having been deceived, but please come forward and tell your provider. We can help you," he said. "And if you provide us with this information, it really helps us to identify the bad guys and the more information we get the better. We all work very closely together and we work very closely with the authorities as well. And we see criminal networks that move between providers and, in working collaboratively in this way, we all have different parts of the puzzle which we can put together."
The good news for the wider public is that the power to take preventative protection measures is very firmly in their hands, with Hazlewood highlighting the need for people to be very careful about their personal data. This is particularly true during such an uncertain time as the COVID-19 pandemic but it stands as very good advice generally. Everybody must question why their data is required when they are asked for it, and be careful about the amount of seemingly harmless data that they are sharing.
"Even look to things like quizzes on social media, which ask all these very personal questions," he said. "Now that information could be used to identify you or to verify your identity with your provider. And with the growth of social media, this is something that we, as a society, have not perhaps been as disciplined about as we should have been. And that's something we see with a number of compromised customer policies or investments being as a result of people who have not been careful with their personal data."
Read more: Aviva on how the insurer is battling fraud during the coronavirus
If there has been any silver lining to the COVID pandemic in the fraud sphere, Hazlewood said, it has been that the crisis has served to bring the various players within the insurance fraud arena closer together. The Government has been working hard towards this also, with the setup of a task force under the National Crime Agency, to enable the rapid exchange of intelligence regarding key threats and trends related to COVID fraud, and the underlying money laundering associated with that as well.
"So we're all able to do our bit, as insurers, as pension providers, as asset managers, and as banks. [All financial services] are part of this task force," he said. "We're able to get the information really quickly to each other and to the authorities, and they're able to take rapid action. And I think we were all moving in that direction anyway, but this has really been an acceleration of that and it has brought us together with this common purpose, to protect the public and to protect people. And that has been a real positive out of all of this."