Hagerty UK MD on building lasting relationships with customers | Insurance Business UK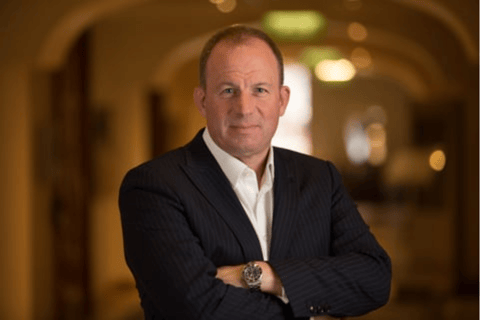 It's a little over a year since Mark Roper (pictured) stepped into the driving seat as MD of Hagerty UK – 12 months distinguished by several milestones as the firm continues to set out its stall as both a provider of classic car and motorcycle insurance and the facilitator for the creation of a community for UK auto enthusiasts.
"2022 has been a really strong year for Hagerty across lots of our 'pillars'," he said in a recent interview with Insurance Business UK. "In particular, we are growing our insurance pillar significantly, which is great to see – and it is somewhat bucking the trend we're seeing of some of our competitors growing much more slowly or even flattening out their levels of growth. We've had double-digit growth over the course of 2022.
"That's been a huge milestone for us, to be growing at that kind of pace. And even now in the second half of the ear, with the macroeconomic situation being somewhat unstable, and the cost-of-living crisis starting to hit, we continue to see a strong footprint across our business, both in clients renewing their policies and in new business coming our way."
The key to Hagerty UK's impressive growth
Looking at the root causes of this growth, Roper noted that a large part of it has been due to some of the initiatives Hagerty UK has pursued outside of direct insurance marketing and management. The classic car insurer takes a different approach to supporting the auto enthusiast community, he said, one that is founded on giving back to them and creating new opportunities for them to engage.
Hagerty runs its own events, and has a big media and entertainment business, he said, and it has doubled down on both areas in the last year to encourage the enthusiast community to enjoy spending time building their relationships with Hagerty in the UK. Whether it's through attending one of the insurer's events or listening to its podcasts or reading its articles, the business is keen to communicate with people via the medium they want to be reached through.
"Then at the time when it's right for them to renew their insurance or to buy classic car insurance for the first time, they think of us as someone that is authentic and, on their side," he said. "[…] We see ourselves as an automotive enthusiasts' brand, that happens to sell classic car insurance rather than a classic car insurer that happens to be in this part of the industry. So, whether people just want to become a consumer of our content, or just want to come to our events, or just want to buy our insurance, that's fine. They don't have to do all those things."
It's a strategy that has paid dividends for the business this year, as evidenced by the findings of the surveys that Hagerty runs at the end of its events. Nearly 90% of the people that attended the events were not currently Hagerty insurance customers, he said, so the company reached those individuals through other channels – and in doing so, laid the foundations for a closer relationship in the future.
Standout moments in 2022
Roper highlighted that another milestone moment for the business this year was the February launch of Hagerty Motorsports in the UK. It's a product offering that was previously only available in the US, he said, and it was initially created to oblige its classic car insurance customers who wanted to undertake some form of motorsports. However, since then, the team is finding a whole host of new customers coming to them simply for this motorsports solution which it is keen to accommodate.
Q4 2022 also saw the inauguration of Hagerty's unique car club partner programme, which is designed to benefit the UK's car clubs. Revealing how the programme came about, Roper noted that Hagerty has worked with 100s of car clubs over the years, traditionally offering members a discount on their insurance premium. It's always been a good model, he said, but what Hagerty was finding is that car clubs tended to have multiple deals with multiple insurers.
"So, actually you weren't really giving anything special to the car club member anymore," he said. "We thought about what we could do that would be different to what our competitors do and what might set us apart from the crowd. Because when you're a car club member, it's not just about getting something you want cheaper.
"You want added value for your membership and the subscription that you've taken out – whether that's interesting information, access to experts, early bird tickets to car events, or valuations on classic car trends. All of those interesting things that are why you are an enthusiast about classic cars are the things that you want to seek out and have more of."
The team at Hagerty quickly recognised the opportunity at hand given that the insurer already runs car events and valuation services and actively creates valued media content. The response of the market to its new car club partner programme has been exceptional, he said, and Hagerty UK has already announced its first win by signing up the VSCC for a three-year exclusive deal. The insurer is also deep in discussions with several other car clubs which will be announced in due course.
What's next for the team at Hagerty UK?
As to what's next for Hagerty in the UK, spring 2023 will see the opening of its first Hagerty Clubhouse at Bicester Heritage – a home of classic motoring in the UK. In addition, the insurer will shortly be launching its first online solution, allowing customers to buy new policies online from December and renew their policies online from early 2023. This will have the dual benefit of making life easier for Hagerty's customers while also opening up its offering to a new more online-orientated audience.
"Then into 2023, we will start development on Hagerty Drivers Club," he said. "That will be our own membership programme. It's huge in the US, actually the largest drivers club in the world by numbers there. We will be more modest in the UK but we will be starting our own drivers club with some of our own curated offers and benefits.
"And we will make sure the drivers club works very much in collaboration and hand-in-hand with other car clubs as well so we'll be looking to involve other car clubs so members of other clubs can get collaborative value from both at the same time. So, I'm looking forward to 2023."