Sabre Insurance CEO on what's driving the next stage of the group's strategy | Insurance Business UK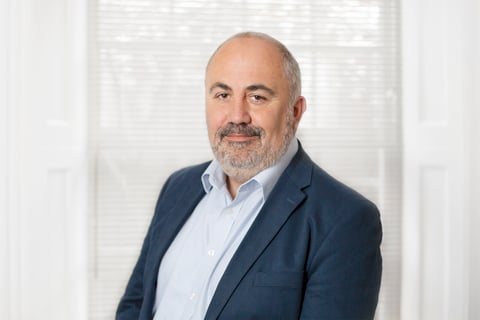 For a business to effectively steer its strategic direction during a time of upheaval for the auto insurance market takes two core factors – a strong sense of where that direction is leading and a shared vision for that strategy across the entire internal team. The UK motor insurance underwriters Sabre Insurance Group has succeeded on both counts, noted Geoff Carter (pictured), chief executive officer, as he reflected on the group's 2021 financial results.
In Sabre's earnings release, he stated that, "after several years of gritting our teeth and sticking rigorously to our 'profitability over volume' strategy, our discipline is paying off, we have turned the page as we enter 2022, and are now entering a far more exciting chapter."
Underpinning this, Carter said in a follow-up interview with Insurance Business UK, is having the right team and the right culture.
"If you cut people in Sabre like a stick of rock, it's 'profitability over volume'," he said. "It's our mantra and I think everyone in Sabre understands that. We've got a very strong, very experienced team. We've really good people in the management team, below the execs who tend to get the publicity. And we've got so many excellent people who keep the business running.
"That mindset [is so critical] because you have to be determined. For us, it has been a difficult couple of years in that we've had to let our premiums subside so much - most companies wouldn't be prepared to do that. So we've got quite a differentiated strategy."
Read more: Insurance renewals – how to bolster customer trust
Sabre has very strong growth coming through this year. It is predicting about £40 million of additional GWP across its bike and taxi partnerships, Carter said, which is quite a significant uplift for the group – and a result he is confident will be delivered at Sabre's standard, quite high-margin profit range.
There are several key areas of focus kickstarting Sabre's next 'more exciting chapter', and first on the agenda is not losing focus on its car portfolio, which is the foundation of the business. "We don't want to lose sight of that," Carter said, "but rather to become as good at bike and taxi as we are at private car. That comes down to making sure the group gives itself the time and space to think about how to really optimise those products."
"And I think there's a whole range of other partners out there for us," he said. "The key things for us in a partnership is [firstly], that [a prospective partner] is large enough to make a difference. Also, we have to control pricing ultimately. We have to have control the technical side of claims, and we're looking to partner with someone who has really deep market knowledge of an area that we don't have. We think there could be quite a range of those partners out there for us to work with."
Sabre sealed its entry into the motorcycle insurance market via a partnership with MCE Insurance in Q4 2021, then fostering a relationship with Bennetts that launched in Q1 2022, while its new taxi relationship with Freeway Insurance is anticipated to drive material GWP growth in 2022. Examining these partnerships, Carter highlighted that securing several high-profile deals with established industry brands in recent months had come with the significant advantage of increased brand equity.
Read more: How is the FCA's price-walking ban impacting brokers?
"People wouldn't have necessarily have thought of us as a natural partner [before]," he said. "We were seen as very much focused on our specialist non-standard high premium business. So I think we quite surprised people by doing these deals. What I think they've missed is that we already deal with 1,000 brokers in the UK. So we're very used to partnerships, these are just a different way of doing it. I think that has opened up the door to a lot more of these as well."
Looking to Sabre's broker partnerships, he highlighted that the group has a very wide underwriting footprint – quoting for 98.5% of all risks in the UK. Brokers may have between seven and 15 insurers on the panel and a lot of them are chasing the same business, he said. So, Sabre helps brokers and affinity partners (such as Lloyd's Bank or RAC) by ensuring they can provide quotes to all of their customers.
Sabre is very stable, he said, it's very well-established in the car insurance market and very clear about what it does – which makes the group very straightforward for its partners to deal with.
Looking at what the future holds for the group, Carter said several factors would constitute a great 2022 for him and his team. First and foremost is strong growth on its car portfolio, and alongside this is making a good return on its bike and taxi business.
"So that's building our expertise while making sure we're still profitable," he said, "and it's about optimising the benefits of those partnerships, while not losing focus on our car portfolio."