A day in the life of a 16-year-old insurance apprentice | Insurance Business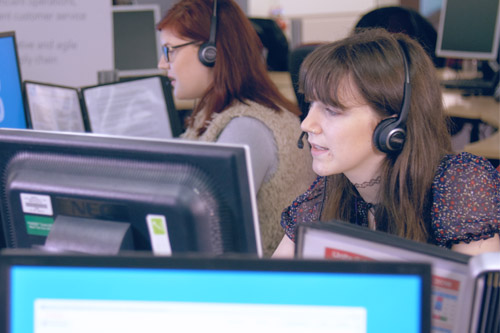 Jasmine Joynt may well be one of the industry's youngest professionals: aged just 16, the school-leaver has opted for a career in insurance, joining Co-op Insurance where she works as a customer service apprentice.
Hot on the heels of National Apprenticeship Week, Insurance Business spoke to Joynt about the appeal of the industry, her plans for the future, and her advice for any would-be insurance apprentices.
Search and compare insurance product listings for Education from specialty market providers here
Why did you want to go into insurance?
I wanted to do something I've never done before. The Co-op visited our school to tell us all about the insurance apprenticeship scheme and the idea of learning something completely new, which could lead into a career – that really appealed to me.
Why did you choose an apprenticeship?
Many of my friends chose the college route, but I've always known that I wanted to enter the workplace and learn on the job. Through the apprenticeship I'm able to earn money and gain real life work experience, while working towards a nationally recognised qualification in customer service.
Why did you choose to do your apprenticeship with the Co-op specifically?
I attended the Co-op Academy Manchester, so I grew up learning all about the company and its values. The chance to work at such a well-known brand in the heart of Manchester was really exciting. One of the other great things about my apprenticeship is that the role is permanent, allowing for lots of progression opportunities both in insurance and across the wider Co-op businesses.
What kind of training and support do you receive in your role?
Initially, we spent four weeks in the classroom followed by another four weeks in the Co-op training centre. We learnt all the basics about customer service and insurance, helping us to build our confidence and get used to dealing directly with customers.
I'm now taking calls from customers on a daily basis, but have monthly catch-up sessions with my mentor to discuss how I'm getting on. My manager Steven is also on hand to help with any questions, and I'm able to catch up with the other apprentices in our free time.
What advice would you give to someone starting out on an insurance apprenticeship?
Whatever path you choose, whether it be on-the-job learning via an apprenticeship, or further education, make sure you make the right choice for you and don't be afraid to speak up.
After starting my apprenticeship, I wrote to the company CEO, Mark Summerfield, suggesting that we produce a 'day in the life of an apprentice' video, and he made that happen. Apprentices have a voice and we shouldn't let our age get in the way of using it.
Finally, I would say to do your research. If possible, speak to your careers advisor or other apprentices to make sure you have as much information as possible before making your decision.
What are your plans after you complete the apprenticeship?
I'd like to stay at the Co-op and hope to one day become a team leader, where I can help train apprentices just like me. In the meantime, I'm focusing on completing my Level 2 in customer service.
Related stories: