A-Plan CEO on her "sliding doors" insurance moment | Insurance Business UK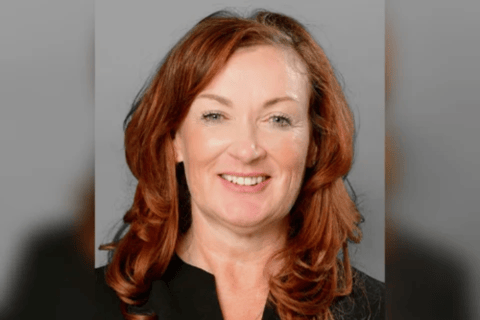 As so wisely observed by the American author and satirist Kurt Vonnegut, "enjoy the little things, one day you'll look back and realise they were the big things." And reflecting on her route into the insurance profession, Kelly Ogley (pictured), CEO of A-Plan Insurance noted that the decision that kicked off her two-decade-strong career was a humble either/or.
Read more: David Howden and Carl Shuker on how the Howden/A-Plan deal came about
"Like a lot of people who fell into insurance, I was just looking for a summer job to earn some money," she said. "I went down to my local job centre as you did in those days and there was a job advertised in insurance as a filing clerk. I was 16 and, when you're 16, you don't know where you're going or what you're doing to do.
"I'd also been offered the first female apprenticeship at Shell, which they were making a big deal out of. But when I went in for the intro meeting at Shell, they all looked a bit scruffy while everyone in Swinton looked quite smart. That was my sliding doors moment really – smart or scruffy?"
She came into insurance with no real intention of a long-term commitment, Ogley said, assuming she'd figure out her career path along the way – which in a roundabout way she did by falling in love with the profession. From the speed of change, to the variety in every day, to the people she worked with, it was a match almost instantly made in heaven.
Looking back, she said it's interesting how a small decision can make all the difference, and she feels privileged and lucky to have had such a varied career and to have enjoyed every step along the way. Little moments and big moments alike have been standout milestones on her journey to date, the first being the decision to join insurance at all. Then while broking at Swinton, she was asked to go on secondment into the firm's head office as part of a process reengineering programme.
"That was quite daunting as I didn't even know what process reengineering meant at that stage," she said. "But I took it, and that's the advice I'd give to anybody - take whatever opportunity comes your way. And taking that secondment led my career in a completely different direction and brought it diversification that I believe ultimately enables me to be the CEO I am today."
It was the first but not the last opportunity for diversification that she initially hesitated at but came to seize with open hands. And when you look at the different paths in a career, she said, it's interesting to see how it all comes together eventually. For instance, an earlier role as head of acquisitions at Swinton has paid significant dividends given the inorganic growth that makes up a key strand of A-Plan's strategy.
"And finally, joining A-Plan was a real milestone, and it was such a huge privilege to join such an amazing business with a great culture," she said. "And within two weeks of joining, I said to Carl [Shuker, now CEO of Howden's UK & Ireland business], 'I've come home.' And that's how it's felt for me ever since. That's all about the culture here which is the same thing that I'm passionate about – putting people at the heart of our decision-making. We put our people and our clients first, and I'm so proud that we do."
Being named CEO felt like a natural next step as somebody who had got to know the business from the inside out, and Ogley said she was very touched by the response of the wider market to her appointment. Working your way up through a business or profession gives you a real appreciation for the role that everyone has to play in a firm's success, she said, and allows you to develop true empathy for your team and peers.
From the feedback she has received and from her own experiences, Ogley said, she has seen the difference it makes to work for leaders whose trajectories mirror your own. And when it comes to insurance and to opening the profession up to the next generation of talent, she highlighted the need to embrace the idea that success is about having the right attitude, not the right background.
There's no one path to education or a professional career, she said, as epitomised by her own decision to study for a Master's degree at nightschool well over a decade into her career. There are different ways and times for people to pursue professional qualification opportunities, and it's critical to remember that not everybody wants to go to university and take on that cost straight out of college.
"One of the things we're working on as part of Howden is asking how we can get more people consciously into insurance," she said. "Whenever I meet new people in insurance and ask them how they came to it they all say they fell into it. Hardly anyone ever says it was their dream job or career ambition. We want to make people realise what an amazing industry we've got and that, when they turn 18, they don't have to go to university - they can come in and we'll train them and make this accessible to everybody."
It's time for insurance businesses to get out there into the market and go out to schools to have these conversations, she said. She counts herself very lucky to have fallen into the profession but she'd love to see a next generation of talent that actively chose their place in the sector. It's a phenomenal industry and a true meritocracy – as proven by the careers enjoyed by the likes of her, David Howden and Carl Shuker – three prominent insurance leaders who joined the industry straight out of school.
"Insurance people and the careers they enjoy are the industry's best advertisement," she said. "And when you're at a dinner party or a social event and people ask what do you do, you say, 'well, I'm in insurance but it's not as boring as it sounds'. There's always that caveat. But actually, it's fun, it's energetic and you learn something new every day. And I think that's what keeps us all interested, that it's such a dynamic industry. But we need to have those conversations or outsiders won't know how dynamic we are."