"As long as people are wanting to talk about insurance, there's a place for us all" | Insurance Business UK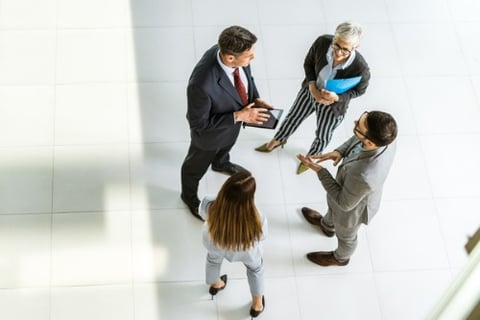 Everything about the insurance profession is geared towards the evolution and maintenance of strong, long-lasting relationships founded on trust. It all comes back to that point, noted Justin Griffiths, MD of Plester Group, because the industry is in the position of not supplying a tangible product but rather a pledge to its customers. When a promise is what is being sold, he said, then how you conduct yourself and how you interact with customers are integral parts of your value proposition.
And Griffiths is no stranger to the role that strong interpersonal and professional relationships play in shaping an insurance journey. After all, it was through a personal acquaintance that he first joined the sector. He was invited to join Plester Group to help develop the firm in 2002, working his way up to the role of MD and, almost 20 years into an insurance career, he has seen for himself the gulf that rests between how such a career is viewed and what it actually entails.
"It's a funny one because if you talk to anyone in insurance, by and large, there are so many really strong relationships and it's a great career for people as there are unlimited opportunities," he said. "But it still has the stigma of being a conversation killer if you're chatting to somebody new. Do you want to say, 'I work in insurance?' No. You want to tell them you're a dolphin trainer or you're a professional sportsperson.
"You don't want to say, 'I'm an insurance broker or insurance consultant'. And that's a shame because, statistically, it must be one of the biggest employers of people in the country if you look at the wider picture of everything that's connected to insurance. It offers fantastic opportunities and people rarely leave the sector or, if they do, they tend to come back."
Read more: Aston Lark acquires Plester Group
Griffiths highlighted that a rewarding element of running a brokerage like Plester Group, which has served the commercial and personal insurance lines market for several decades now, is having the opportunity to introduce new talent to the insurance pool. He emphasised that this was a driving force behind the firm's sale to Aston Lark earlier this year. The entire team was attracted to Aston Lark's operational stance and ethos, he said, as the broking group is not looking to limit its regional offices as it relishes having a high street presence.
"I don't think you can underestimate that," he said, "particularly in the times that we're living in with COVID. As a layman, it feels like if you look at the banking sector, the banks have jumped on the opportunity to cull branches and reduce their face-to-face personal service as a cost-cutting benefit. In insurance, I don't think brokers have done that, it's the opposite actually. That's a positive thing about our industry – as long as there are people out there wanting to talk to someone about insurance, there's a place for us all."
The broker has been able to differentiate itself by maintaining a strong presence in personal insurance lines, such as motor and household, at a time when many commercial brokers no longer even try to compete with online aggregator sites. That offering allows the firm to give six staff a full-time job, he said, as well as offering commercial clients a one-stop shop where they can sort out all their insurance needs in a single place.
Read more: New MD on the traits required to build strong broker relationships
Plester Group has managed to obtain its clients' trust in their ability to take care of their requirements – whether that's insuring a holiday home, their child's first car, or their business. The group has built a name for itself in serving its local community and established a trusted brand, a prevalent location and a solid proposition.
"We still have customers who just want to walk up to the door and have a chat and pay their insurance," he said. "So, those old-fashioned service values have really worked well for us. In terms of our areas of specialism, contracting and motor trade are two of our main areas. And we look at owner-operated businesses like ourselves, so we're having a conversation with the owner of a business rather than an employee who might change year on year - because we're looking for long-term relationships with people.
"We've got clients on the books who have been with us for over 30 years. And so, even through the turbulent times you get with insurance premiums and rates and things like that, our turnover of customers is very, very low and our retention rate is very high."