Clear Group HR director on building a structured talent pipeline | Insurance Business UK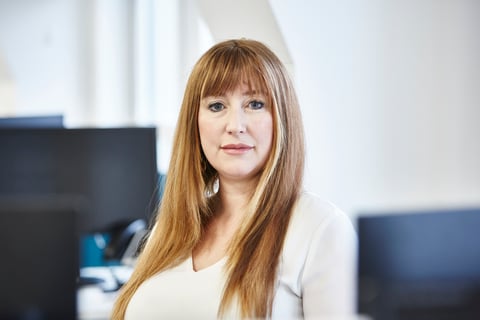 When discussing the variety that comes with working at an insurance brokerage, it can be easy to overlook the myriad of people working behind the scenes of client-facing roles. In insurance businesses across the UK, whether they're working in claims, or marketing, or IT, or accounts, or HR departments, these are the people forming the bedrock of a broker's place in their community.
As the group HR director for the Clear Group, Victoria Canton (pictured) came to insurance in a regular way, following the path of her mother who worked as an insurance broker. After leaving university she headed for an insurance career, taking on a local role before moving into the compliance space with a position at Markel International. She spent about a decade working in compliance and company secretarial positions in a variety of organisations before moving into the HR space and she joined Clear Group in January 2020, only a few short weeks before the COVID-19 pandemic hit.
Read more: Insurance companies on talent retention following the coronavirus pandemic
"I think that one of my unique selling points in taking on this HR director role is that I've been fortunate enough to have spent a lot of my career in insurance company boardrooms," she said. "So, I can really understand how the business works which gives me a pragmatic view on how to deal with some of the cultural issues and the general people issues that there isn't really a rulebook for."
As terrible as the COVID crisis has been, Canton noted that it has allowed insurance businesses to really examine their working practices and look for opportunities that they might not have considered before. Over the last 12 months, she said, she has seen the emphasis on employee wellbeing across the insurance sector grow exponentially from what was already quite a strong starting position. This has long been a focus for Clear, she said, noting that when she first joined [Howard Lickens, group CEO] highlighted that the group aims to ensure it is the kind of place where people want to come to work.
The work Canton has done in leading wellbeing initiatives over the last year has been key to retaining talent and developing a strong leadership pipeline for the group. She joined with the objective of developing structured talent management processes and development policies. Clear has grown dramatically in size over the past few years, both by acquisition and organically, she said, and its new-found size requires such structure to give managers "freedom within a framework".
"With regards to our talent pipeline, we've started talent profiling all our people to find out where they are in their careers and establish succession planning," she said. "And it's my first experience with it, but I have found that insurers are really supportive when it comes to broker leadership development as well. They actually issue programmes for brokers to [utilise] for their leadership development programme. So, you can leverage these bigger company leadership programmes for the future leaders in your business, which is great as talent is one of the key priorities for us in HR for 2021."
Read more: BIBA ambassador on how COVID-19 has impacted talent in the broking sector
A big advantage of Clear's growth by acquisition has been the talent that this has brought into the group, she said, and the diverse geographic spread of these deals is another reason why a structured and holistic approach to talent development is required. Some regional pockets in the group might otherwise have become isolated from professional development initiatives, but now it possible to ensure that everybody can enjoy the same opportunities.
Canton believes there is a great deal of opportunity within the insurance sector for dedicated, talented people looking to grow professionally and her key message to those people is one she heard early in her own career: "if you don't tell me, I'm not going to know". It sounds so simple, she said, but it is the absolute truth, and she is convinced that a career is what every individual makes of it.
"So, if you want an opportunity you have to ask for it," she said. "And I can tell you, everybody that has come up to me and says 'I want to do this' or 'I'm interested in that', as soon as that opportunity comes up, their name is the first to pop into my head."